What are typical home staging costs when selling a home?
As a home stager, I get this question a lot. Homeowners worry they have to spend thousands of dollars to get their home ready. There are a few things to consider and some tips you can do yourself to cut down the cost. So let's talk about the average fee, a good rule of thumb for staging figures and the different fees associated with home staging costs. This will ensure your home staging prices are realistic.
Average home staging costs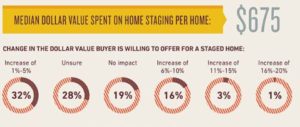 If you look around or call a few home stagers, you will find home staging costs vary. Some home stagers will provide just a consultation and you can do the work yourself. Others will insist on bringing all new furniture in to decorate the house to sell faster. It depends on the company so ask questions until you feel comfortable with the answers.
According to a 2015 report by the National Association of Realtors, the average cost spent on home staging is $675 per home. You can spend as little or as much as you want but don't be tied to a certain number.
Good rule of thumb
When it comes to staging a home, you should set aside a budget. A good rule of thumb is 1-3% of your homes' asking price. So if you plan on listing your home for $300,000, set aside $3,000 to $9,000 for home staging. This includes things like storage unit fees for the items you need to stash away like extra toys, chairs, clothes etc. Rental furniture, painting, cleaning and other home accessories are also part of this budget. Do keep all your home staging receipts from professionals and products you bought. Some items may be tax deductible so talk to your tax advisor.
There are some things that should not be done to sell a home faster. As a home stager, I have been asked if they should apply an epoxy coat on their garage floor. My answer, don't do it because you won't get the investment back. Unless you have a garage that showcases your 10 Lamborghinis like Jay Leno, then I doesn't pay to do it. Use the money elsewhere to help sell your home.
While granite countertops are all the rage in some houses, it does not go in every single one. You should not expect to see granite countertops in $100K houses because your home just became the most expensive one in the neighborhood. You don't want to be the most expensive house on the block and you don't want to be the least expensive either.
Home staging fees
Consultation – This is the walk and talk option as you walk through each room in the house and is considered the least expensive. Who wouldn't want to just pick the brain of a designer and get all their ideas in 2 hours or less? Most home stagers charge a consultation fee because the homeowner can potentially make thousands of dollars from their advice.
A typical home staging consult can vary between $100 and $300 an hour. So if you just want advice on what you, the homeowner can do, this may be your best bet. If you have a vacant home, a home stager will suggest bringing in rental furniture and accessories to make the home feel like a home and will bring the average cost up.
Rental furniture – Most occupied homes will have furniture that can be reused by the stager and rearranged to make the best use of the space. If you are missing pieces like lamps or couches, these kinds of items can be rented. Keep in mind, you should expect to rent the items for at least a month or two. Some rental companies have a minimum or it costs less if you rent the items for a longer period of time. Also keep in mind the quality of the furniture. Don't expect to put in high end furniture in a lower priced home.
Buying accessories – Some items such as bedding, towels and home décor may not be rentable. In this case, a home stager will suggest buying these items. You can pay them to go shopping for you or they can tell you which items they need and you can always get them yourself.
Overall, you don't have to spend thousands of dollars to get your home ready to sell. A simple consultation is sometimes all you need to get an idea of what needs to be done and you can keep the costs down by doing it yourself. If, however, you don't have time to do it all, consider hiring a home stager to do the work for you.
Staging Snapshot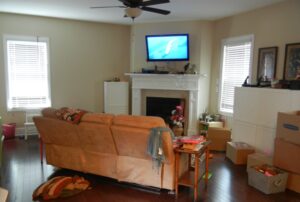 Need staging advice for just one room? Then the Staging Snapshot is for you! Send one picture of the room and get staging advice within 24 hours.