Afraid you will pick the wrong color scheme for a room?
We pick colors every day without a second thought. Do you write meeting notes with a black or blue pen? What is your favorite ice cream flavor? Do you prefer spicy or mild flavored food? Each one harbors a color and we are automatically drawn to it. But when it comes to choosing a color scheme for our own home, we
freeze and don't know what to do
. Don't let a topic such as a color scheme intimidate you. Your home reflects you and your personality and is supposed to
make you feel comfortable and welcome
. Since you can easily answer the questions above, here are some surprising ways to determine a color scheme in your home.
What is your favorite painting?
A favorite picture may be the
inspiration
you need to create the room. Look at the colors and the amount used in a painting. The above bedroom was inspired by this painting where the majority of the color (about 60%) was gray. Black and white was used about 30% of the time and 10% is pink. To recreate these colors and show off the painting, the walls were painted a light gray (
Smoke Embers
by Benjamin Moore). I used white furniture, used black in the bed sheets and pillows while pink was used in the rug, curtains and other accessories to make the color pop.
What color is your car?
If your car is black, white, silver or gold, you tend to stay neutral in colors. Those are the basic
building blocks
and are considered classic colors. If your car is red, orange or yellow, you tend to like the warm color spectrum. If your car is green or blue, then you like the cool colors. Pick one of these colors to help you create the atmosphere in a room.
What is your most favorite outfit that makes you feel good?
An outfit can be a powerful statement depending on your mood. Ever notice how in the beginning of the week you tend to stay with basic colors like black or beige and then by the end of the week, you have more color like red, green, orange or blue? Each one has a different effect on your
mood
. If you are working on a project and need to stay organized and focused, then blue is your best bet. Red means you are fired up about something and need to get your point across. If you want your recreation room to be the
life of the party
then throw some red into the mix with
accessories
or paintings.
What are your favorite activities?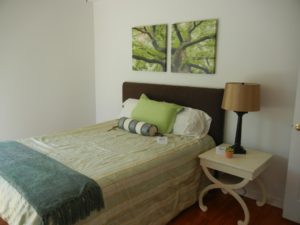 If you enjoy being
outdoors
with nature then you probably are drawn to more blues and greens. Same thing goes for the beach lover. However, each one can bring a different tone to the room. For the nature lover, you might have darker wood tones in your
furniture
. For the beach lover, pick lighter colored furniture to remind you of the beach.
What color do you have most of in your closet?   
Sometimes a
common color
in your closet is all you need to figure out your favorite color. If black tends to run in the theme, you would probably not want to paint the walls that color. You can however, use black in other items in the room perhaps a black stripe in the curtain, a black vase, or black metal artwork. Black pairs very well with a warm beige wall color. Note the second most used color in your clothes and that can be the
alternate pops of color
you can use for the color scheme. Once you determine your favorite color, it doesn't mean that you should paint the wall that color. You can bring life to your room with your favorite color in accessories. If you have a beige wall, use color in items such as throw pillows, blankets, side table, lamps, flowers etc. There are so many ways pick your color scheme just have fun with it and let your color come out.