A Home Stager Can Make Your Life Easier
As a homeowner, you will do almost anything to sell your home at top dollar. You know you need to clear off countertops and clean the carpets. But how do you know if that is enough? If you fall into any of these categories, you may need a home stager to help you prepare your home before putting it up for sale.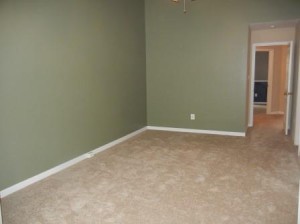 1. Your furniture arrangement has not changed in 10 years.
If you lived in your home for 10+ years and you haven't changed a thing, then you probably need a second opinion. That is not to say that the furniture needs to be replaced, but rearranging it among different rooms can give the space new life. Many people don't realize how quickly you can overlook a room arrangement just because it was put there and never moved again. Start with a home staging consultation so you can bounce ideas off the home stager and then do it yourself
2. Your home is on the market and it hasn't sold in 60+ days.
There has to be a reason and normally the comments by total strangers can be spot on. Sure some comments can hurt, but what hurts more? Paying 2 mortgages or selling your home? A home stager can identify problem areas and recommend changes.
3. Your home is empty.
According to Debra Gould, The Staging Diva, only 10% of people can visualize the space with or without existing furniture. There is nothing to fall in love with when you are staring at 4 blank walls. I remember the day we found our current home. My daughter was 3 years old and was going through a princess phase. She said she wanted a "castle." We toured a home that had a large-sized bedroom and a beautiful canopy bed in the middle. She fell in love with it and jumped on the bed saying, "This is MY room!" She could picture herself sleeping under the canopy like Sleeping Beauty. Unfortunately, the bed went with the homeowners but we found a suitable substitute for her magical room. An empty room does not evoke that kind of emotion. A home stager has many resources to find rental furniture if needed.
4. Your spouse/significant other/roommate cannot agree on what stays or goes.
A home owner is emotionally attached to the home and cannot see past the scenery in front of them. A home stager can be that independent third party who knows who the target buyer is and can make appropriate recommendations. By shifting your perspective and removing items, the room takes on a new look. When I did a staging consultation for an empty nester, I suggested removing an overstuffed chair and other items to make the room feel bigger. This chair could then be used in a sitting area and a small table was put to better use in the eat in kitchen area along with chairs from another room. By changing a few items around between rooms or removing them completely,  the rooms were set up to show off the maximum potential.
5. Rooms are halfway remodeled.
A home stager can have a slew of resources to help make your home shine. They normally work with tradespeople to finish up any projects that were started but never completed. Remember any work that needs to be done by the new homeowner will be deducted from the offer price. Don't let them decrease the price and get those projects finished!
6. You don't have the time to stage/setup your home to sell. 
In the end, your home will look very different from the way you live in it. This is only temporary. Staging is meant to enhance the features of your home and according to the Staging Diva, "[staging] can have a dramatic effect on the selling price and the number of days spent on the market."
Let's face it. You and your spouse both work and the kids have to be shuttled to and from activities. Or you simply travel too much to do anything. A home stager has the resources to pull everything together to get your home ready for the real estate market.