The Creative Home Podcast | Episode #265
This episode is brought to you by my Etsy shop, WillowBrookPrintable. Looking for some artwork for your rental property or to stage your home? Check out my instant downloads of artwork you can print and hang in your home at WillowBrookPrintable, and get your house ready to rent or sell!
Pinehurst, North Carolina is called the Home of American Golf and is known for hosting a number of prestigious golf tournaments including three U.S. Open Championships, one U.S. Women's Open, three U.S. Amateur Championships, one PGA Championship, and the Ryder Cup. A lot of people end up visiting and then moving to this beautiful area. If you are currently living in Pinehurst, NC and selling your home soon, you should listen in on tips for staging your home.
1 | Remove excess furniture
If you live in Pinehurst, NC chances are your furniture is of high quality as well. You probably have some valuable pieces that mean something to you. But sometimes there can be too much in the room blocking access to a hallway or other rooms. For example – table in front of hallway by entrance.
2| Wall art in Pinehurst, NC
Art may be the eye of the beholder, but everyone has their own interpretation. When it comes to your artwork, we need to consider what may be offensive or embarrassing. Or if it doesn't portray a neutral background for the room. Deer antlers in the man's cave room may be what you want in your man cave but think about the new homeowner. They may be turned off by that decor.
3| Don't go overboard with plants and alcohol
Show off your butler's pantry but remove all visible alcohol bottles and put them in the cabinets. Cluttered countertops are something we want to avoid so show of that gleaming granite, quartz or marble. Turn on the lights in the butler's pantry and dust off those hanging glasses while you are it.
if you are a plant lover and have multiple plants per window sill, in your bathroom, or entryway, it gets to be too much and can clutter up a home. Spread them around the home but it should not feel like a jungle in there.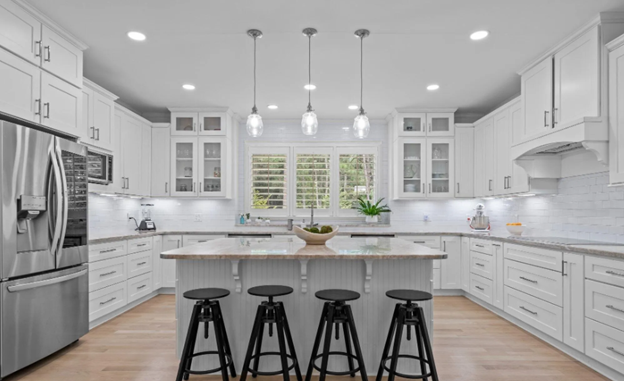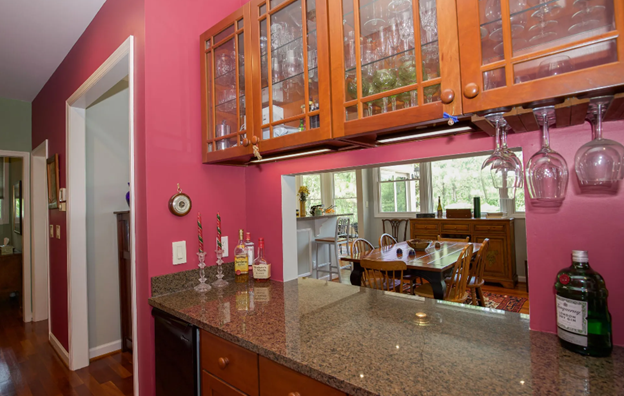 4 | Pool or Golf View in Pinehurst, NC
Show off that view and don't block the view out those gorgeous windows. Dark paneling or drapes should be removed so you can look out on the view. Buyers should be drawn to those beautiful windows (which should be cleaned) from the front door of your home.
5| Red Wall Color
I see this time and time again. Red walls in the dining room. It's actually one of the worst colors you can paint a wall. Other home stagers agree with me (the Decorologist and Megan Morris of MHM Professional Staging) and even the Property Brothers, Jonathan and Drew Scott.
While red is a powerful and attention grabbing color, it's not the one we want to use when selling a house. Red is hard to photograph correctly and can make the room feel small and dark which is not what we want when selling a home. Just because you like it when living in the house, does not mean it's a good color when selling a home. In fact, the Property Brothers describe red walls as "angry 90s red walls". A good wall color in the dining room is a soft blue, beige or cream color (not yellow).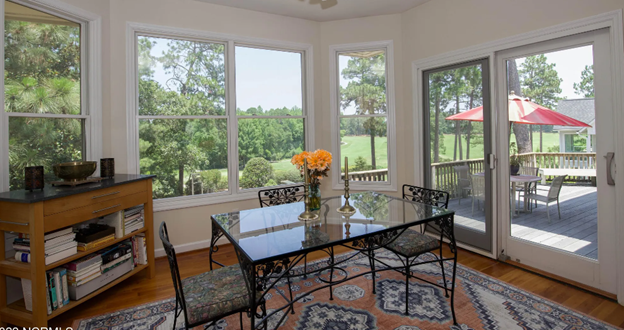 While you may not be a in a hurry to sell your home in Pinehurst, you definitely want to get top dollar. Things like excess furniture, offensive artwork, and excess plants or alcohol bottles can hinder the sale of your home and not get top dollar. Show off that view and get rid of that red wall color will make your house stand out and been seen. By taking these home staging tips, you will be well on your way to get the best offer on your home in Pinehurst, NC.