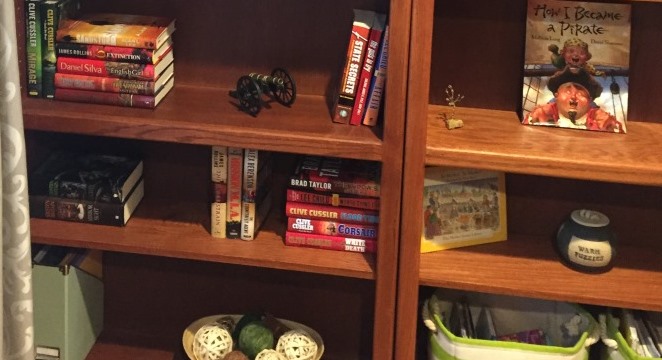 If you love to read, then you probably have at least one bookcase in your living room, another in your
bedroom
and possibly another one stashed in a family room. Let's face it, bookcases are fantastic places to store your books or books for your kids. Bookcases come in all sorts of shapes and
sizes
so you can fit one in almost every place in your home. However, when it comes to selling your home, a bookcase can be a
clutter
monster. Let me show you how and why I staged a bookcase in this living room and what you can do to make yours look more presentable.
Why Should You Stage a Bookcase?
If you staged your living space, then everything else in the room needs to complete the look. If you have a bookcase in your living room, then it needs to play the part of the staged room. A bookcase can be considered cluttered if it looks too full. So let's go over the steps you can take to stage your bookcase.
Steps to Stage Your Bookcase
Remove any pictures you may have on the bookcase. Buyers don't want to see who lives there. They want to imagine themselves living in the space.
Remove about half the books off the shelf to remove the cluttered look.
Kids books can be easily stored in a bin or box. If you need them, then store them on the bottom shelf for the kids to reach easily. Find which ones your kids may have outgrown and donate them so you aren't tempted to move with them.
Consider color in the bookshelf and in the room. Use accessories to show those colors on the shelf. If you have dark bookshelves, use lighter colored items. For light colored bookshelves use dark colored items so you can see them.
Arrange books in different ways like a bookstore. Have some laying down or standing up and down. If a cover of the book is interesting, use it to show the front cover.
Remove any military themed or personalized items on the shelves. Also remove any wedding or photo albums and store them out of sight.
Always step back after completing a shelf to see how it looks. Move things around but don't feel tempted to overfill the space. There should be some empty spaces on the shelf.
In the end, you will have to slim down your book collection. It needs to look uncluttered and have a cohesive look to the room. Pair down your selection, pack it away for the move and use other accessories to fill in some gaps and give the space some interest. And if this is too much for you to handle, let me help you stage your home.
Need more personalized staging tips?
If staging bookshelves overwhelms you and just need someone to come in and help you get the whole house staged, I'm here for you. Book a home staging consult so we can get your house look move-in ready and buyers make offers on your house.