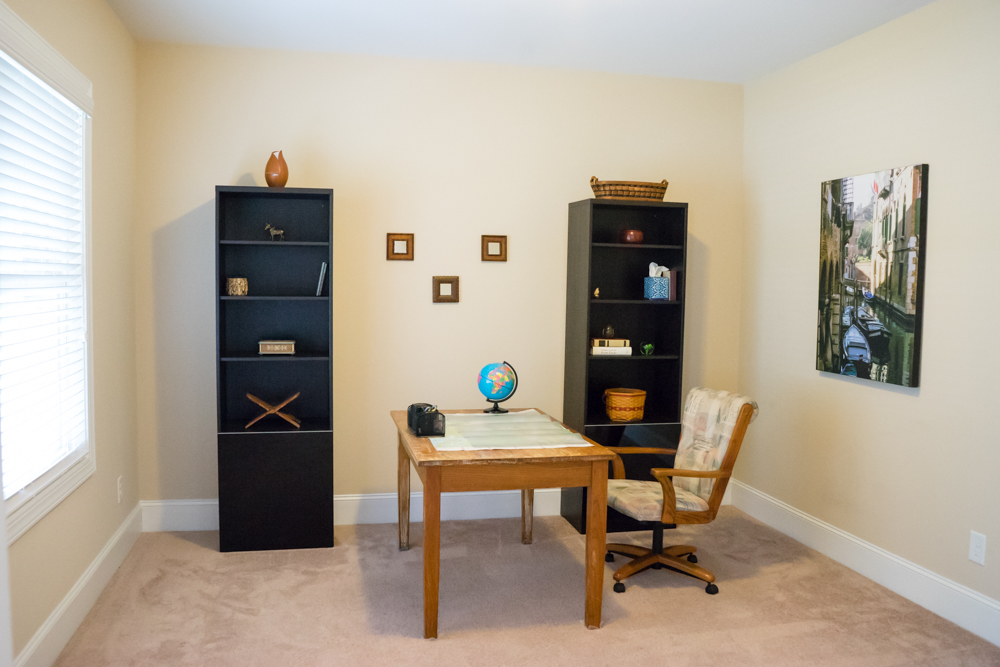 The Creative Home Podcast | Episode #172
This episode is brought to you by 30 Easy Tips to Get your House Sold. Looking for a quick checklist that will help you focus on what to do to get your house ready to sell? Check out my free download, 30 Easy Tips to Get Your House Sold, and get your house ready today!
Home Office A Dull Space? Wake it up!
Some of you may be working from home during and after the pandemic and realize your home office areas can sometimes look very mundane and boring. You walk into your home office and you probably dread the workload waiting for you. Nothing makes you smile and you dive into the task at hand. Why not make it reflect more of your personality yet still be functional? Here are 22 easy home office updates you can do to give it some zing.
Listen to the podcast episode below:
1| Paint or add framed wallpaper
If you can, paint a wall or add a framed wallpaper to give your space some color. Maybe its fabric that makes you happy. I saw these beautiful prints in Michaels (which surprised me) and Hobby Lobby has them too. Get a big enough piece of fabric that you can then frame and hang it as a piece of art in your office. Maybe you love bicycles or something quirky. You can find those things on fabric or maybe something abstract. That will give your office space some color and reflect your personality. Maybe you found a swatch of wallpaper and you love it. Use that in your home office. And you can get thin metal frames from Michaels or IKEA.
2| Use desk organizers in various colors to brighten the space
My favorite store is the Container Store and that can get very expensive but they have lots of colors. Even Target has some nice desk organizers for your home office. Really any home decor place has desk organizers  even file holders. IKEA has file holders too and I got some in a nice soft green color. If you don't like the color of the desk organizers or file folders, you can use contact paper or wallpaper that you love and wrap in that. Orange is a nice vibrant color that helps you think creativity in your home office so if you need that boost of creativity, add some orange in your home office.
3| Install a cork board or message board above your desk
Maybe you need something to remind you and using sticky notes all over the edge of your computer screen, a cork board might be a better solution. Right now, I currently have sticky notes all around my computer screen so a cork board of message board might work better to help jot notes down. A corkboard is also a great place to write down your goals because then you are more likely to achieve your goals when they are written down and seen every day.
4| Replace lighting with a floor lamp or desk lamp
If you have flourescent lighting, especially in a corporate office, the light can be harsh. If you can bring in a desk lamp that can help soften the harsh glow. When I worked with IT guys, they LOVED to work in the dark. They turned off the flourescent lighting. If you are in a home office and don't want to turn on the overhead lighting, a little desk lamp will do. Sometimes a fun lava lamp is something you can use in your home office.
5| Change the lampshade with a more colorful one
If you have a desk lamp, think about changing the lamp shade. You cna find many different colors.
6| Replace your desk chair that is comfortable yet stylish
No one says your chair has to be one of those plain wooden chairs. You cna updgrade it to something that has chenille fabric, or microseude. Some of you may say, well I need a chair that has lumbar support. If you love a wingback chair, but it doens't have any lumbar support, then maybe add a lumbar pillow.
7| Add some shelves or a bookcase
I love floating shelves but sometimes you can't those up especially in a corporate office. But a free standing boookshelf or a low shelf cna help organize and update your home office. I've also seen floating shelves that have really strong adhesive that don't require nails. I don't know how good those are but you can't put heavy stuff on there. So if you are thinking of using the floating shelves for books, I would not use that product. So if you use a bookcase, you can add wallpaper on the side of it or line the back of it.
8| Add some art like a globe or inspirational quotes or pictures
Things that make you happy with inspiration quotes or vacation pictures are great ideas to add to your home office.
9| Use funky colored filing cabinets
Maybe you have one of those gray filing cabinets. Spray paint it orange, pink, turquoise, I don't know, pick a color. Have fun with it. but if you can't paint it then move onto the next item…
10| Line your desk drawers with wallpaper to make it pop
So when you open up your drawer, you have some pretty wallaper or contact paper inside your desk to look at. Maybe it's some sunflowers, airplanes or traveling to places like Paris or Rome. Something that makes you happy when you see it.
11 | Use drawer inserts to organize those paperclips, pens and sticky notes
Again we are just adding color to your home office and updating it while also making it functional and organized.
12| Use colorful storage boxes for office supplies
Place all those pens, paper and office supplies in a pretty box. Store it out in the open so you can easily get to it but hide int in plain site.
13| Add a charging station for your mobile devices
Make it someplace where you always put your phone. You may use your phone for conference calls but you need a place a charge it.
14| Replace the curtains in your home office with ones that allow more light
Maybe it's just too dark in your office so  bring in more sheer curtains. If your home office doens't have windows, consider painting your office a lighter color to make it more bright.
15| Use accessories such as nice vases, bowls or paperweights on shelves
This helps decorate your office and adds more of your personality.
16| Add colorful chairs and a side table for a reading area
Maybe you have to do research and don't want to do it at the desk. Add  comfy chair and table for a place to sit.
17| Add an ottoman
Add a little footstool to your space and have some fun with it.
18| Hang a magazine rack and use washi tape to change the color to fit your needs
Instead of wallaper, use washi tape to decorate it.
19| Wallpaper the back of your bookshelves with a world map or favorite vacation place
I love doing this to bookshelves especially old ones that are brown and plain. Make it fun and have something fun back there.
20| Frame your favorite vacation place using inexpensive frames you can find in places like IKEA
We talked about this in #1.
21| Add a rug to warm up the space and bring in color
It can be under your desk or right when you walk into your home office.  Ideally you would want the rug to sit under the desk and the chair.
22| Replace your desk
Replace it with a sleek, simple desk which looks less clunky and visually opens up the space in the room. It doesn't have to have a cabinet drawer. Maybe it just has a  single drawer for pens and paper.
I hope this inspires you to wake up the dull space in your home office. And if you have any other questions, please feel free to check out my Facebook page and send me a message.