Do you have mason jars lying around? Put them to work!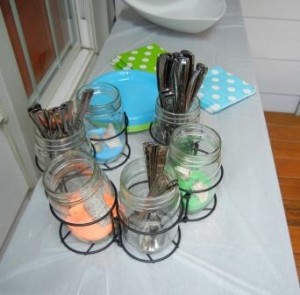 I was getting ready to host a party at my home and wanted to find something to store the utensils other than a large bulky bin. I ran across this cute mason jar caddy at Kirkland's and loved how it could be used serpentine style, in a long row, or a circle. My creative juices kicked in and I realized this can be used in so many other ways around the home after the party. So here are just 16 ways to use mason jars in your home…and I am sure there are many more you can come up with too!
1.
Fill with colored sand from
Michael's
and add votive candles
2.
Fill with different flowers from your garden
3.
Use as utensil and napkin caddy for a party in serpentine style
4.
Arrange it in a circle and put a large vase in the middle with flowers
You don't have to have the wiring baskets to hold these mason jars. Just buy small mason jars and arrange them in a row, semi-circle or circle.
6. Add color and bring nature indoors with pine cones, pine needles, nuts and berries and place on your mantle
7.
Use it as a centerpiece for a baby shower with pacifiers, barrettes, trucks, and ducks!
8.
Store your favorite candy such as M&Ms, gumballs, lollipops, lifesavers, Hershey kisses and more for your office desk
9.
Make it snow themed with fake fluffy snow, peppermints and holly berry
10. Grow your favorite herbs like basil, cilantro or oregano
11.
Use it instead of a veggie platter with carrot sticks, celery sticks, asparagus, and cucumber sticks
12.
For a Pirate themed party, fill the mason jars with gold coins and precious jewels
13.
Use them to store your art supplies such as brushes, colored pencils, scissors and crayons for your
craft area
14.
Store bathroom
supplies
such as cotton balls, Qtips and bath soaps
15.
Turn it into a guest bathroom caddy with toothbrush and toothpaste, razor, soaps and washcloth
16.
Dip them in paint and use as colorful vases in a foyer, bathroom or office
The decorating possibilities with mason jars are endless and you can use them for every room in your home! There are even more uses if you want to use them as
gifts
but use your creativity and put them to good use in your own home.