The Creative Home Podcast | Episode #262
This episode is brought to you by my Etsy shop, WillowBrookPrintable. Looking for some artwork for your rental property or to stage your home? Check out my instant downloads of artwork you can print and hang in your home at WillowBrookPrintable, and get your house ready to rent or sell!
Do realtors believe home staging can help their clients? That's a question I ask when meeting realtors to get their sense of selling a home. And I want to share what I've learned over the past few years as I stage homes for both clients and realtors.
Home staging is the art of decorating a home to sell and not decorate to live in it. It will feel different to the homeowner and may not look like their home any more. In fact, I kind of play the home staging therapist when staging a clients' home. I'll share that story later.
What do realtors believe?
Per the National Association of Realtors
It was most common for sellers' agents to use a staging service (24%). Sellers' agents also said that it depends on the situation (24%), and sellers' agents also personally offered to stage the home (22%).
Per these statistics, home staging is not used by all agents. Sometimes, the homeowners already know they have to edit and stage their home prior to showing so it may be done before the agent sees it.
23% of sellers' agents said they staged all sellers' homes prior to listing them for sale. 10% noted that they only staged homes that were difficult to sell.
Some realtors believe home staging can help them while others do not even try. Some will just look to declutter and that's it. Decluttering is part of the process to stage a home. Let's get into three different scenarios of what realtors think of home staging.
1 | Realtor believes it's easier to empty the home 

Sure it can be easier on the seller to remove all the furniture but statistics say that buyers will only spend on average 7-8 mins walking through an empty house versus 30-40 mins in a staged home.
Wow that is amazing, right? I know a lot of people think that they can envision the space when it's empty and you aren't distracted by other people's stuff but when it's empty, it's really hard to imagine the furniture in the room. In fact, a room looks actually SMALLER when it's empty versus when it has furniture. There is nothing in the room to give you a good sense of scale until you put in a couch or a bed. Then you can visually see that the couch or bed fits really well and there is space for other items too.
An empty room also allows the buyers to nit pick at things they normally would not. For instance, there is nothing in the room to look at because there is no furniture. The only things left to pick at are the paint, the walls, floor and ceiling. Buyer's won't necessarily imagine themselves living in the space because they have nothing to look at and nothing left to the imagination.
In fact, only 10% of people can envision a space. The rest have to be shown the possibilities.
Take a look at the pictures below. The one on the left looks like it could be a dining room, living room or bedroom but we don't know just by looking at the picture. The house was listed with empty pictures like this for two months without a single offer. The owner then called me to bring in rental furniture, redid the photos and got a full price offer a week later!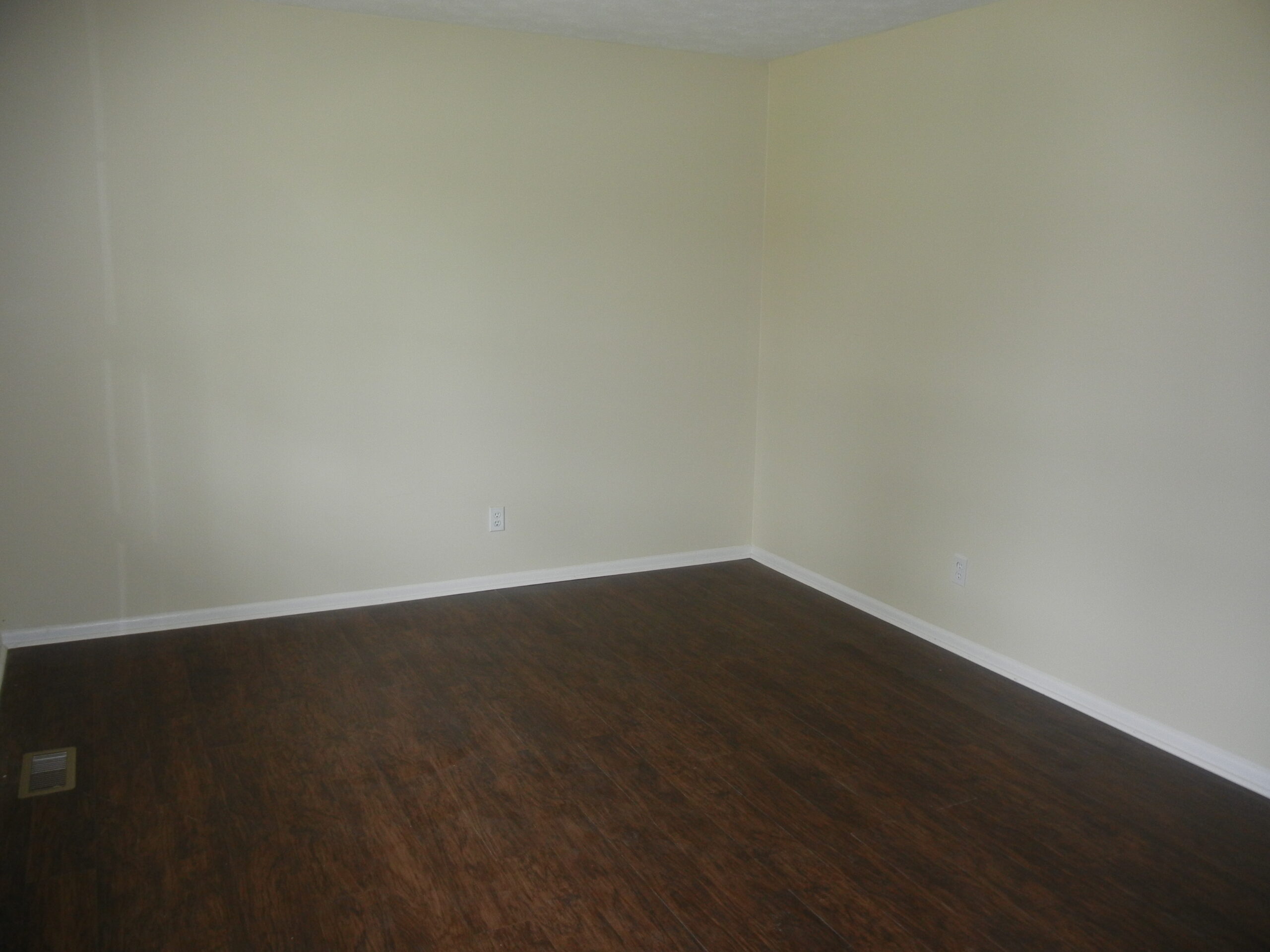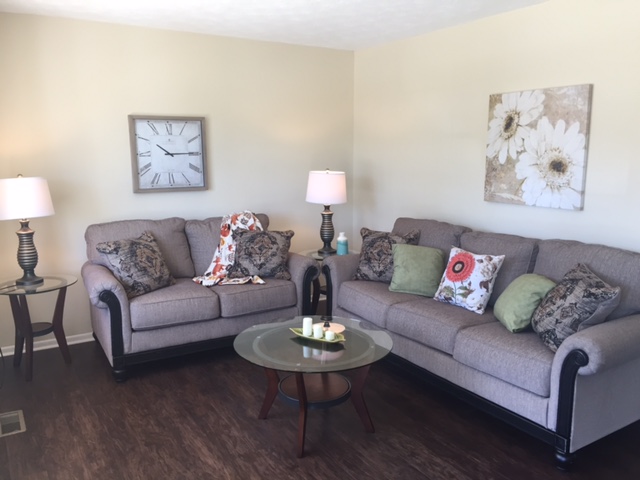 Let's go back to the 7-8 minute walk through in an empty home. I really didn't believe it until I saw this happen first hand. I went to an open house and the house was empty. There was one other couple there and the came in after me and left before I did! I heard them talking and they said things like, oh ok I think this could be a bedroom…maybe a playroom? There was nothing to slow them down because there was no furniture. They didn't have the imagination and could not envision seeing themselves live there.

On the other hand, when I staged one of my own houses, we had buyers sit in our house for almost an hour! Yes it was a big house but I kept wondering, when are they going to leave? Are they measuring something? What could be taking so long? The fact is, you WANT the buyers to take that long because the house is convincing them to stay a while…envision growing a family…enjoy time on the deck.
2| Realtor believes to stage it with rental furniture after the homeowners move out
This realtor did believe in staging but the homeowners had to move out because they had short-notice military orders. It happens and it makes it easier on both parties, the home stager and the homeowners. But rental furniture can be costly and they have a minimum monthly rental fee. Not all home stagers provide rental furniture as part of their services so you have to ask when talking to a home stager. You may even want to consider using virtual staging if rental furniture is not an option.
One realtor called me to ask if I staged empty homes and explained that a couple wanted this option because they had two kids and dogs and didn't want to deal with the hassle of staging using their existing pieces. I totally understand this and moving is a big deal because I've moved 10 times in 25 years! However, you can really stage a home and live in it when it's being shown. Yes there are some hassles, but it can be done.
As you can see in the pictures below, the left side shows how it looked before the homeowners moved out. They also had a baby and dog crate (far back right corner) that would not be there if I staged it using their furniture. However, after the homeowners moved out, we took the opportunity to also paint the main floor to a more neutral color. It would not have been that easy had they left all the furniture in place.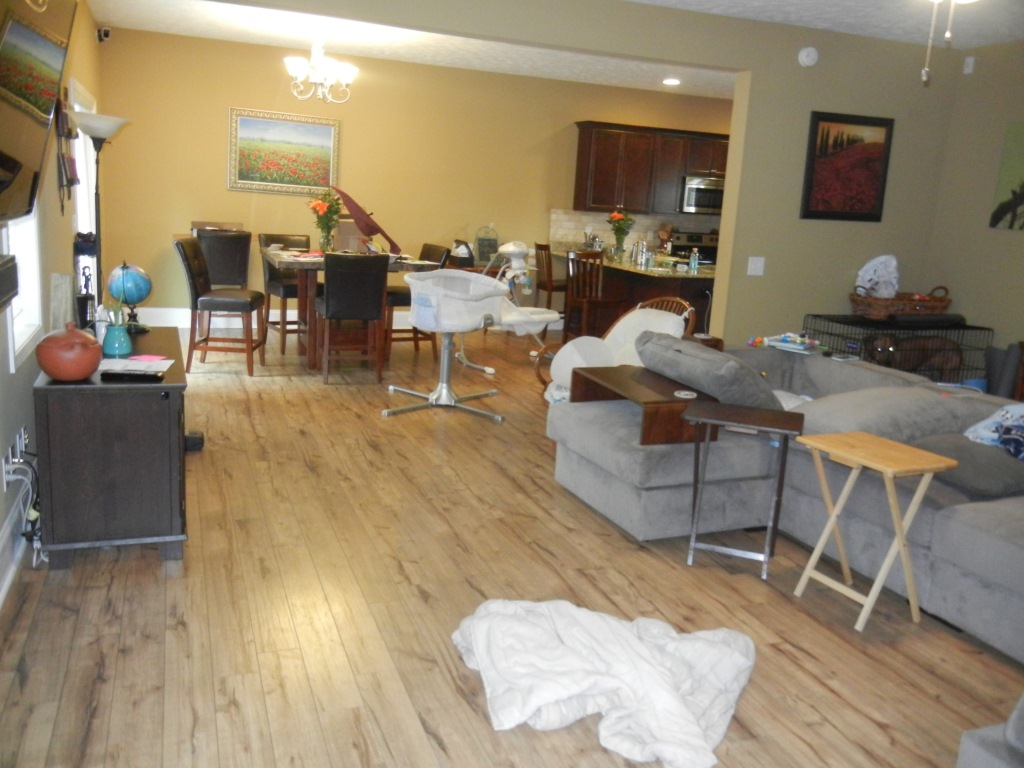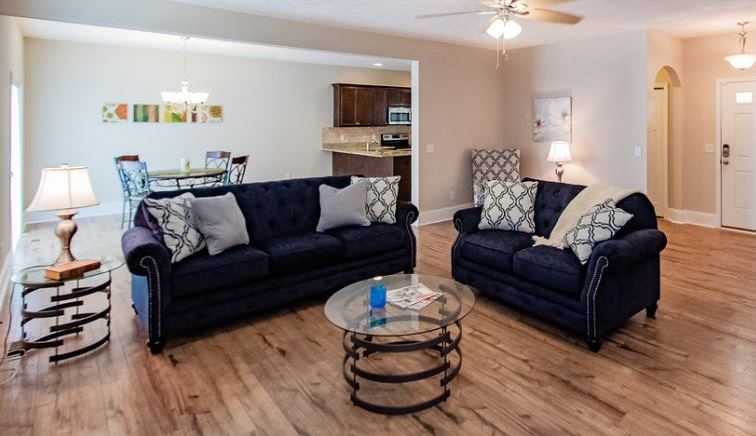 3| Realtor believes in home staging while the homeowner lives in it
The realtors that I work with now, have me come in for a staging consultation and move around the existing furniture. During my most recent staging appointment, the homeowner was not ready for me to move things around. He knew it had to be done, but the realtor insisted that I help get the house ready for pictures. I basically played the bad cop, while she played the good cop.
This is where I played part therapist and part home stager. He was getting ready for his next chapter in life. Home staging was eye opening to him because he hadn't moved in 20 years! He wanted to downsize his life and selling this house was part of that new chapter. At first, he had a hard time when I started removing pictures and small items. He had a lot of nice art but it wasn't all appropriate so we had to take it down. By removing these items, we were able to show off the view out on the golf course but also see each open space as it was used.
Below is an post from Angela Thompson explaining how realtors and home stagers can work together and some of the conversations we have to have with a homeowner.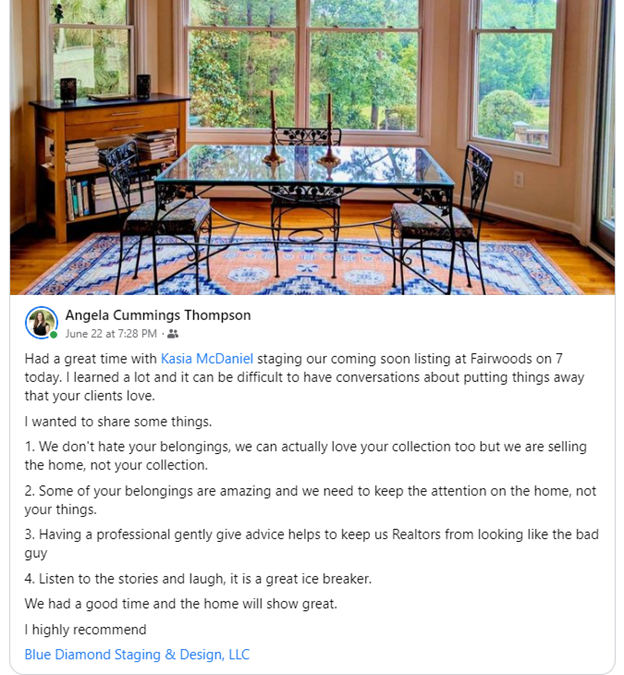 In the end, you will find realtors who either believe home staging helps or it doesn't. It really is up to you as the homeowner to see if your ideas match those of your realtor. You may not be convinced but the realtor may feel strongly for it. Try it and see. This is where my therapy hat comes on and this is only temporary.
Rate, Review and Follow on Apple Podcasts
"I used Kasia's Creative Home Podcast as my main guide for how to stage our home" If that sounds like you, please consider rating and reviewing my podcast. This helps me support more people to help them sell their home or decorate their new one. Click here, scroll to the bottom, tap to rate with five stars and select "write a review".
Also, if you haven't done so already, follow the podcast. That way you don't miss a single episode. Follow now!