Why should you stage your home?
Real estate is a very visual market. Only 10% of buyers can envision their furnishings in a home. The rest (90%) have a very difficult time deciding the furniture layout in each room. If you stage your home to sell, you can visually help the buyer. That is why I always recommend putting furniture in each room. Not only do you show the buyer what kind of room it is, you show them how they can arrange the furniture too. Empty rooms don't inspire buyers to sit and relax as I discuss in this
blog article
.
In the infographic below, one of the main reasons you need to stage your home is because it will stand out among the competition. Almost 90% of buyers look at pictures online first, especially if they are coming in from another city or state. Once they see the pictures, they will ask their agents to see the home in person. But you ask, how do I get the buyer to come over? What are they looking for?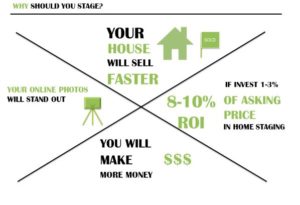 Buyer's expectations
In Moore County, North Carolina, the population has been growing and changing in the past few years. The median age in 2013 was 67 and now it is 46.  Younger families are moving into what was known as a retirement community. The
number one reason
you should stage your home is because they are
looking for
homes that don't require work and are
move-in ready
. Home staging is a process that will make it look move-in ready. As a homeowner, you have to put some
work
into your home if you want it sold quickly.
Freshen up the look
Sometimes, all it takes is a new coat of paint, removing wallpaper and rearranging the furniture. We are now going into the
home staging phase
. We are decorating to sell versus decorating to live. While you may have loved the wallpaper, most people may not. As a
home stager
, I am not judging your sense of taste. I am merely helping you to get your home
more
appealing to the buyers who would be looking to buy your home.
Warning notice
I do have to warn you, once the home staging process is complete, your home will no longer feel like your home. It may feel strange. It may not be the colors you love. It may even be an INCONVENIENCE. But know that it will only be temporary. Once you decide to sell your home, it is no longer your home and won't feel like it.
Buyers come into a home that they would love to live in. They want to see it organized and clutter free even though the house may NEVER look like it after they move in. It's like a Hollywood set. Show them how they could live in it and that is home staging. When you show them something they love, they will have a hard time walking away.
For the home staging skeptics, I will always get the "Why should I spend money on a house that I am leaving?" and I will respond with "How long do you want to wait for your house to be sold?" If you don't do any
work to get your home sold
, it will sit longer on the market. I will cover the question of
when
you should stage your house in another article.
As always, if you need more staging advice, please
contact
Blue Diamond Staging & Design for a consultation.
Want to get my Top 10 Home Staging Tips? Sign up here for your free guide!