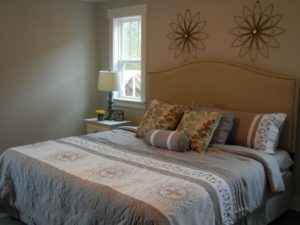 As a home stager, I get this question a lot. While a home stager tends to stay away from trends, you want the home to appeal to the target buyer whether it is a home for a family of kids, a retired couple or a single person. Each home is unique and you want to show off those qualities so that it can be dream home for someone else. However, how do I pick what colors to use, what type of artwork etc? I say, it depends. It depends on the location of the home, the current season, the home décor or the style of the home. Each one can influence me to go one way or the other. I don't want to fight the style of the home either. If it doesn't look right, the buyers will think so too.
Location
It depends on the location of the home. I would not pick coastal pastel colors for a home that is in the mountains. Even though the original homeowners may have decorated it that way to remind them of the beach, it does not fit in with the surrounding area. You have probably seen it in your neighborhood. Perhaps there are Colonial style homes and a contemporary home will stick out like a sore thumb. But if there is a mix of styles, then you can work with them.
Seasonal colors
Sometimes I pick colors that complement the home. For example, if it isn't in the budget to change the wall colors or floor tiles, then as a home stager I pick colors to enhance the colors or deter away from it. In the winter season, you will find more gold, reds and silver colors and the stores will only carry those colors in their accessories, pillows and furniture. As a home stager, I work with what is available in the stores.
Home décor
There might be a blanket throw or a pillow that has the colors we want to use in the home. That can be a starting point and I use that throughout the whole house to tie everything together. I remove any colors that don't work in the home and use the one color or two to make the room pop. The eye will gravitate towards the contrasting color and make it more appealing.
House style
A family home should have more kid friendly spaces, so as a home stager, I will work to show those off to potential buyers. I would have some toys in a bedroom or play space. If we expect the buyers to be retirees, then I want to show off the entertainment areas or more open areas. Perhaps use a bedroom for potential grandkid visits. The options are limitless. I work with what the home provides and show how the room can be used.
I keep an open mind for each home I stage. Sometimes you can add a bit of whimsy, show off a music room, an office or an outdoor space. I have to look into the eyes of the buyer and imagine myself as the buyer. What would I want to see? Imagination is key and as a home stager, I bring that imagination to life. So I use a variety of things to inspire me to stage a home and make it a dream home for someone else.
If you need help to inspire your home, please give Blue Diamond Staging a call!