If you live in the Fayetteville, NC area, chances are you affiliated with the military. Fort Bragg is located in Fayetteville and is the largest US Army base by population and home to over 500,000+ Army soldiers, families, retirees, contractors and civilians. And if you are affiliated with the military, there is a higher chance you will move every few years. That is where home staging comes into play because there are so many families moving in and out, that your home will be in competition with many other homes at the same time.
While many families choose to live in and around Fayetteville, there are a number of good neighborhoods within easy commute. Areas such as Carolina Lakes, Hope Mills, Spring Lake, Anderson Creek and Raeford just to name a few. There is plenty of shopping, events, downtown places and it really comes down to where you feel is a best fit for you and your family. However, when it comes time to sell your home, you may need some help in this area if you are not familiar with how to get your house ready to sell.
Home Staging in Fayetteville, NC
Home staging is another term for getting your house ready to sell. And when you have a large community such as Fayetteville, NC, you need to stand out. Home staging helps you stand out and get your home sold faster. You may think that home staging is the same as interior decorating and you've done all that while living in your home. In fact, home staging is the exact opposite of interior decorating. While interior decorating decorates to your personal tastes, home staging removes that personal taste and makes the home more neutral so that a broader audience can fall in love with your home.
Fayetteville, NC has mostly family homes but there are some downtown apartments for young, single professional adults. You need to stage your home to attract the right buyer. If you have a larger home, show off all the bedrooms. If you have an apartment downtown, show off the amenities and entertainment spaces that young adults crave.
How do you stage your home?
There are a number of steps when it comes to staging your home. It starts with decluttering which is probably going to be your biggest hurdle. I know some of you just want to pack everything away and just sell the home empty. Let me explain why that isn't such a good idea.
Vacant homes take longer to sell
I had a client call me after listing his empty 3 bedroom home in Fayetteville, NC for 2 months. He didn't get a single offer on his newly remodeled home and realized he needed furniture. He hired me to bring in rental furniture and accessories and photos were retaken so he could post them online. One week after the photos posted, he had a full price offer on the home! The reason it moved so quickly? It was because the right furniture was brought in, arranged and made the home  look actually bigger. Empty homes look smaller in online photos and you have nothing in the room to determine the type of room and what can actually fit in there. And by the way, this home was listed at $100,000. So as you can see, even low priced homes need staging help too.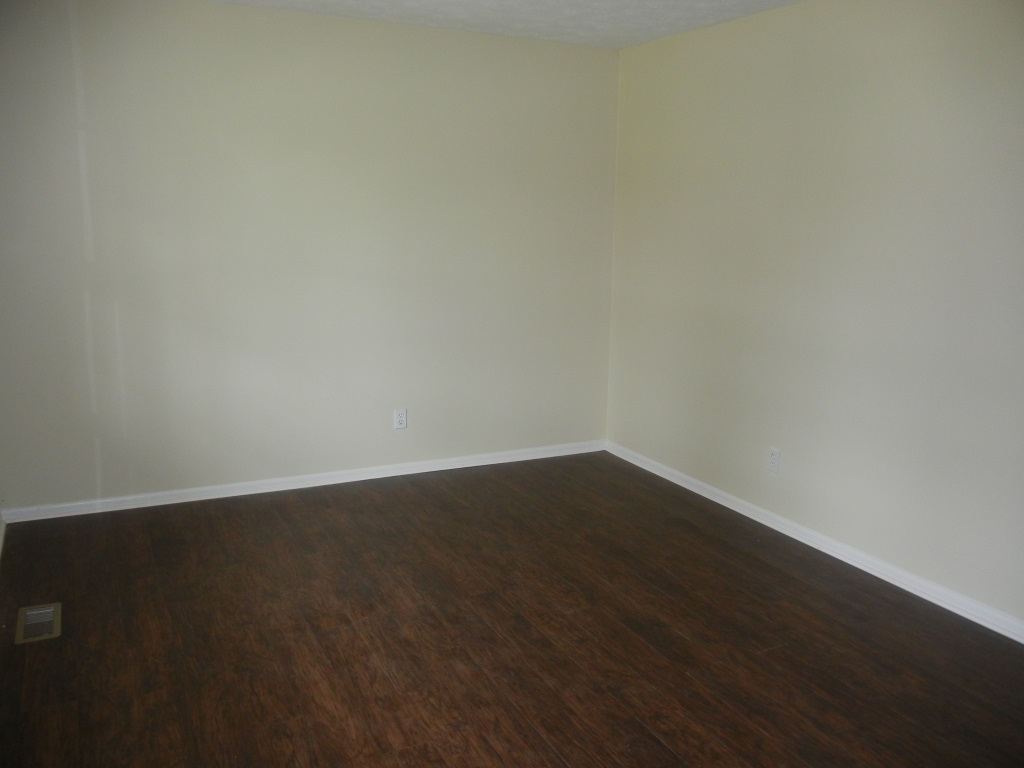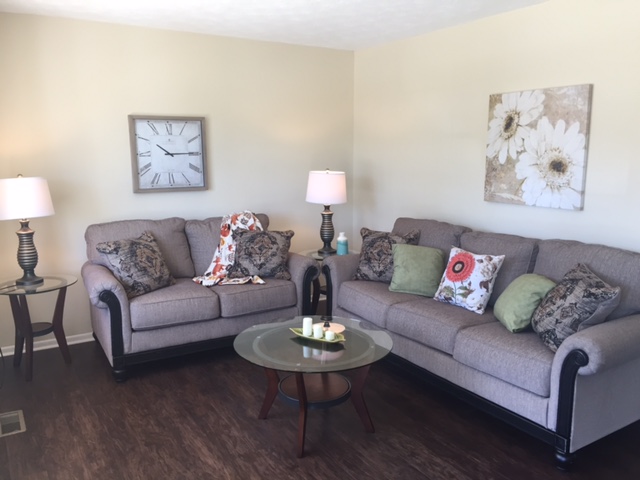 Decluttering
As I mentioned before, decluttering is a big part of staging your home. Once the clutter is removed, you can then see the potential of the room and show it off.
As you can see from the pictures below, the left picture has A LOT of stuff in the living room and dining areas. We needed to remove the excess items such as luandry, dog cages, baby toys and more just to get to the nitty gritty. In this case, the homeowners were a military family and had to move their furniture out quickly. They hired me to bring in rental furniture and choose a wall paint color that was more neutral to the space.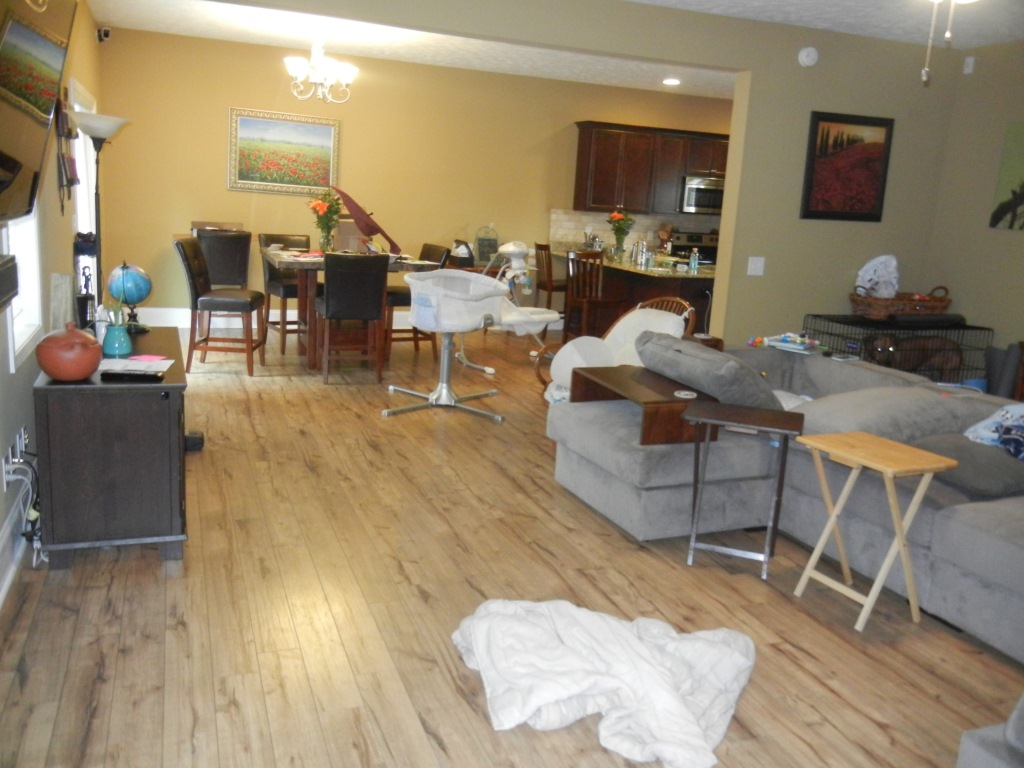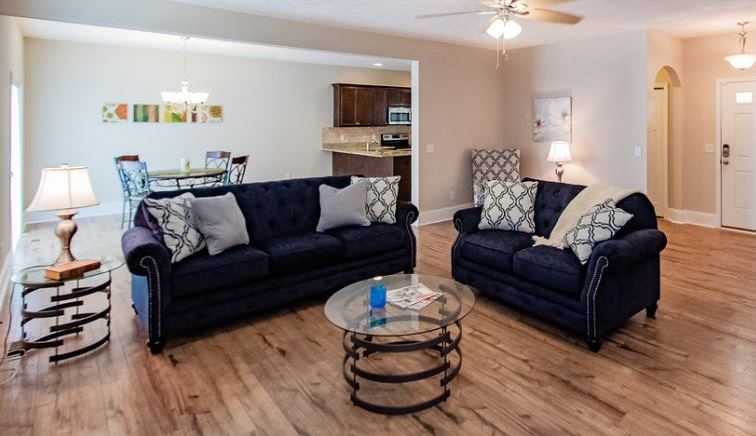 Home staging using your stuff
But you don't have to bring in rental furniture in order to sell your home. In fact, I prefer to reuse what you have because rental furniture can cost a lot of money. After decluttering, there are times when I suggest removing or rearranging furniture. In the pictures below, you can see we removed the clutter and then we changed the orientation of the couch and added a small chair adn rug.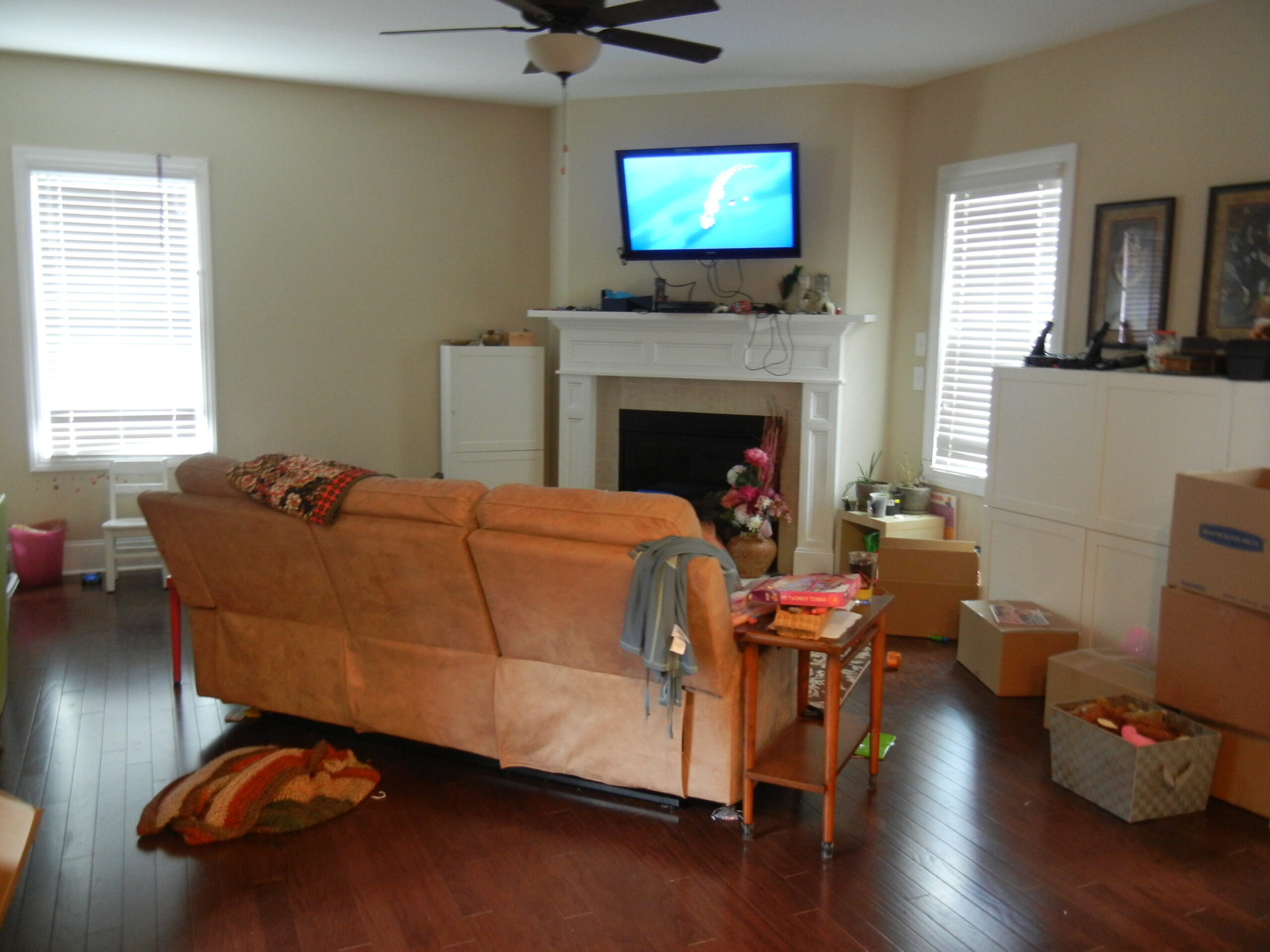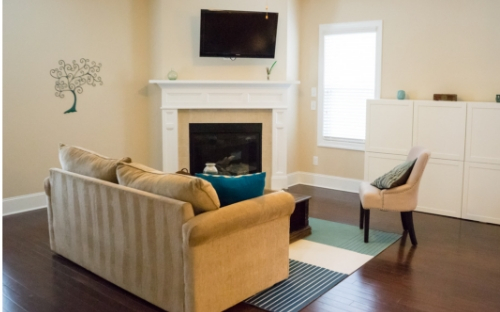 Home staging resources
Now that you know that you should not empty your home, you are probably wondering what you SHOULD do. I am here to tell you there are a number of resources for you. Whether you want to do the work yourself or hire someone, there are things you can do easily.
Home Staging Podcasts
If podcasts are more your thing, I have a weekly podcast called The Creative Home Podcast. You can listen to my more than 170 episodes that only last about 10 minutes. I discuss home staging and decorating tips for your home so you can listen to ones that apply to you. You can listen on Apple, Google, Spotify and more.
Here are a list of my favorite podcasts to help you get started:
#6 Worst staging advice given
#15 How to Stage Your Master Bedroom
#17 How to Stage your Kitchen
#29 What glaringly obvious things should I change before selling?
Home Staging Before & After
You can view my portfolio of before and after pictures so you can get an idea of what the rooms should look like when selling your home. As they say, pictures are worth a thousand words and if you know what to emulate, you can do it too.
Home Staging Consultation
If you just need someone to tell you exactly what to do in one room or the whole house, Blue Diamond Staging & Design offers that service! You don't have to live in Fayetteville, NC because these consultations are all done online via Zoom, Skype or Facebook. If you can't do it online, we can also work with pictures to explain what you can do to stage your home. You can sign up for one room consultation called the Staging Snapshot or a whole house consultation.
Yes, home staging helps sell your home in Fayetteville, NC and all other towns
I've staged homes from $100,000 to $900,000 and ALL of them could do with some sort of staging. Some require more staging help than others but I keep it in perspective based on the price point of the home. If you need help getting your house ready to sell, feel free to contact Blue Diamond Staging & Design for your home staging needs.