As a home stager, I sometimes have to cringe at the advice homeowners get from people on how to make their vacant home more appealing. A vacant home can be tough to sell for so many reasons which I covered in another blog article. However, one real estate agent told a homeowner that it would not pay for them to hire a home stager and that they should just add towels to their bathroom. Really?
Vacant home thoughts
Put yourself in the buyer's shoes. You walk around the vacant home and notice there are towels left in one bathroom. You think, "Huh. Did the homeowners forget them when they moved out?" because obviously there is nothing left in the home. "Why did they leave the towels?"
This gets their mind spinning and think, "why was that left?" And not, "Oooo that bathroom looks so much prettier with those towels." How will towels help sell a vacant home faster? It won't. Buyers will think, well the sellers must be desperate because they moved out. Now we can lowball them and get the house for less than listed. Don't let buyers think this way and show them the big picture.
Whole picture
With home staging, it is a whole picture. You need to stage the important rooms to make a significance in a vacant home. Which ones are the important rooms? According to a 2015 Home Staging Survey done by Realtor.org, the top 4 most important rooms to stage are the living room, kitchen, master bedroom and dining room. The bathroom is number 5. So adding towels will do nothing to sell your home when the other rooms are vacant.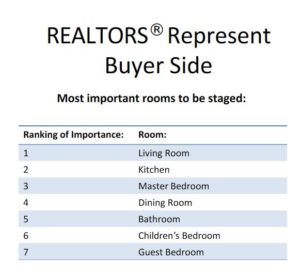 Recommendations
Each room should have minimal furniture in it and arranged in a way people would expect to use the space. Don't do partial staging where you throw a rug in the room and put in a chair. That does nothing to portray the right image. Again we are trying to win over the buyer and have them fall in love with their dream home. A dream home shows how they can live in the space and imagine themselves in it. They should have a sofa to sit in and look out the windows to the backyard. They should see that a queen sized bed really can fit in the bedroom and still have room for other items.
And staging is not just adding furniture. There should be sheets on the bed, artwork hung on the walls etc. Not every room has to be staged, but I recommend staging the top 4 rooms in a home to show off the space. An empty room or just adding towels will not help you make the house look like a dream home.
For more staging tips call Blue Diamond Staging & Design or check out my blog at www.bluediamondstaginganddesign.com