As you prepare your home to sell, you know there are certain steps that need to be taken.
Decluttering
, cleaning and finishing
projects
around the house need to be done so that buyers don't have anything to pick on when they see your home. But your home is in competition with all the homes in the area and you need to make it stand out other than just location. Here are some small changes you can make to make your home more appealing to the buyer.
Curb Appeal
A buyer bases their interest on the
curb appeal
. It takes 8-10 seconds to make a first impression and you need to make it count. You've done all the grass cutting, weeding and bush trimming but now go one extra step. Find a container that shows off Fall colors or Winter shrubs and add an element of color and interest to your front porch.
Fall container gardens
are an easy way to bring color to your front door. Stop by your local nursery and pay attention to when they have sales towards the end of the season. Wreaths are a great way to add some color too. Some people stick with traditional fall colored wreaths but you can make your
wreath
different by making (or buying) eucalyptus wreaths. Fresh ones smell great and they do dry nicely. If you aren't into making a fresh one, a magnolia
Foyer entrance
Once they come in the door, make the
foyer
more ap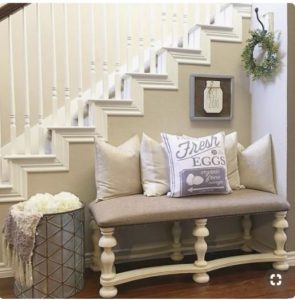 pealing. If you don't have a mudroom, create a bench entryway. This is a great way to add some style and make it feel more "homey". You want the buyers to "take off their shoes" and stay awhile, right? There are some great examples of how to make your entryway more comfortable without being too cluttered.  A plant, bench, some coat hooks and pillows are all you really need to up the ante in your home. Use color or muted colors (depending on your home's style) to being buyers in. Make sure not to clutter up the foyer area. Too many pictures or pillows just detracts from the space. Make it inviting and a place to sit down or set down your purse.
Staircase
If your staircase is stuck in the 1980s, you might want to consider updating it as well. I am not talking about a major overhaul, just a small change like changing the color. There are few tutorials out there or you can hire a
handyman
to help you get the look you want. It's amazing how much a color can enhance the look of a staircase and make that foyer look stunning. Take a look at my
Pinterest board
to give you some ideas on what you can do to update your staircase. These are just a few ideas to bring your home up to the top of the buyers list. Depending on the season, look at using container gardens to bring in some color to your front step. Add a wreath for the season and look at your entryway and staircase. These small changes can help prepare your house to sell faster. If you need home staging advice, call Blue Diamond Staging & Design for a consultation.