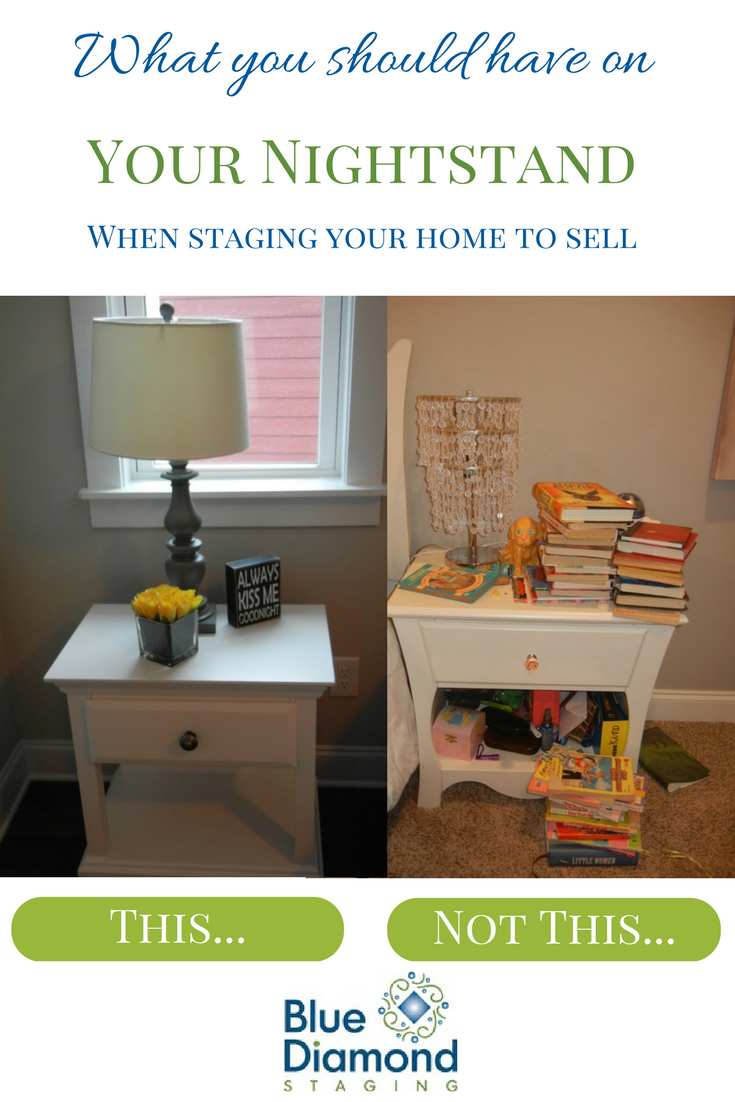 Our life can get very cluttered and sometimes we don't even notice it until it is time to
sell
your home. One area to look at is the bedroom nightstand and how much stuff we actually accumulate over time.
A nightstand is very functional but since it is a flat surface it tends to collect lots of items. Whether you are living in the home while it is on the market or not, the nightstand still needs to be clutter free. You will want to remove any excess items that cover the surface and leave just a few items.
Nightstand items
When it comes to staging a home, I suggest having 3 items on the nightstand starting with a lamp. A lamp helps bring in visual height to the room and some interest in the color or style of the shade. A clock is always useful and can be decorative or a regular LED. Finally you can choose one more item to complete the trifecta; a box of tissues, a statue, a flower vase or a little sign. By picking three items, you can also bring in some color. Each item will be varying heights and that helps bring some visual interest to the space as well.
Anything else that you must have, such as books, paper, flashlights etc, should be stored away inside the nightstand. Remember to dust the tabletop and never store valuable items or anything that has personal information on it such as checkbooks or bank accounts. Homebuyers tend to look through all sorts of cabinets so don't be surprised if they look inside yours. By removing any tempting paperwork, this will help prevent any identity theft issues too.
Now that you know the number of items on your nightstand, you can do the same for each bedroom to help cut down on clutter and help you sell your home faster.
Want my Top 10 Home Staging tips? Sign up for my free guide!