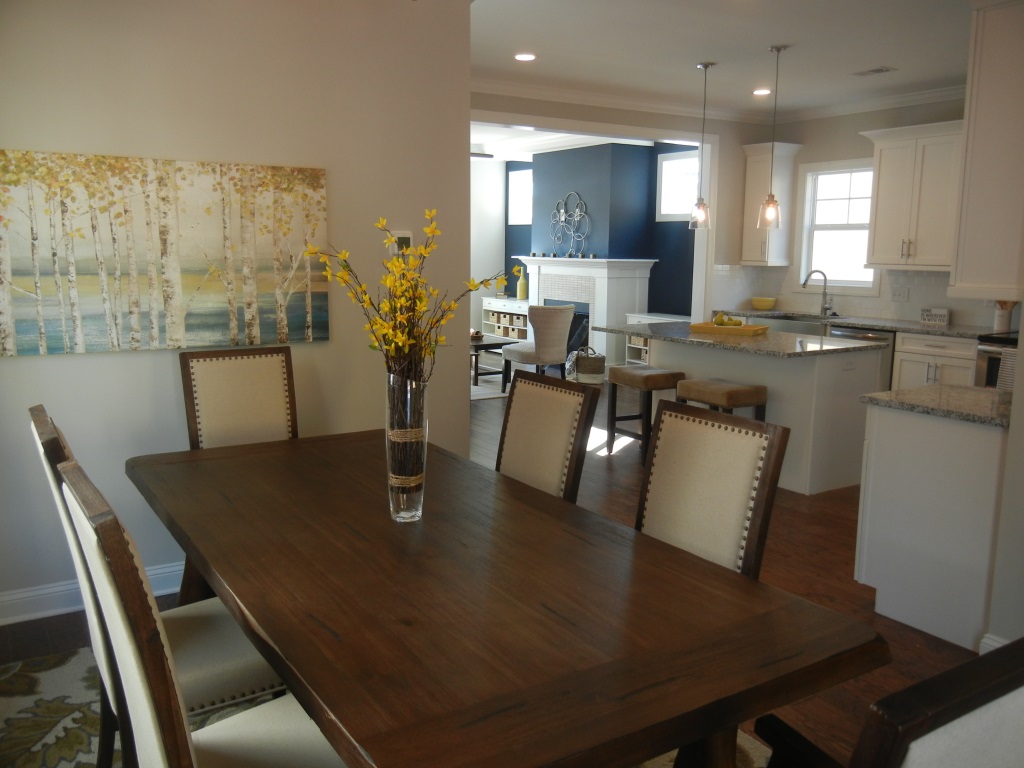 Staging a Dining Room
When staging a dining room, there are certain things a home seller should do to show off the space. In fact, according to the National Association of Realtors, the dining room is the 4th most important room to stage. A dining room can set the stage for a home. So let's talk about the dining room furniture, empty rooms and accessories to show off your space.
Dining Room Furniture
When it comes to staging a dining room, you need to make sure the room actually has a dining room table. If the listing mentions a dining room, there should be pictures of the space that looks like a dining room. The only furniture in the dining room should be a dining table, chairs and a sideboard/hutch if there is room. Any other furniture should be removed.
As you can see in the pictures below, there were bookcases in the dining room that were moved to the living room. The clutter was removed as well from the table.
Many homeowners have turned dining rooms into offices or play rooms. If you use the space as something other than a dining room, it should be changed back to the original intent. Turn it back into a dining room for the pictures and rent or borrow pieces if needed.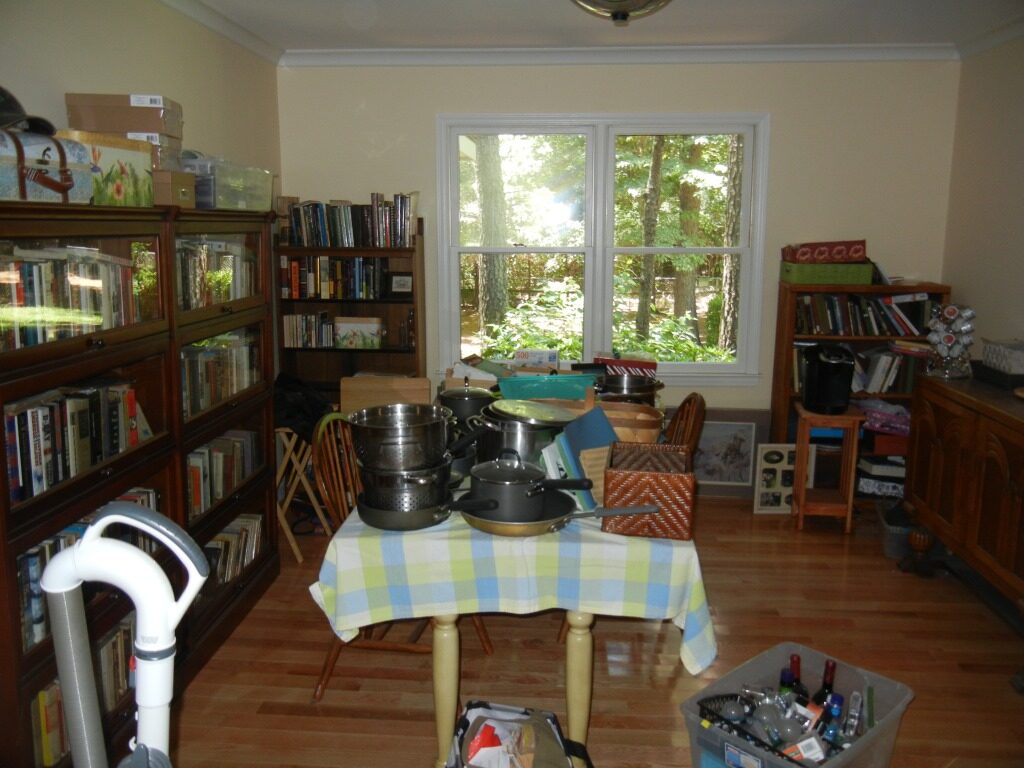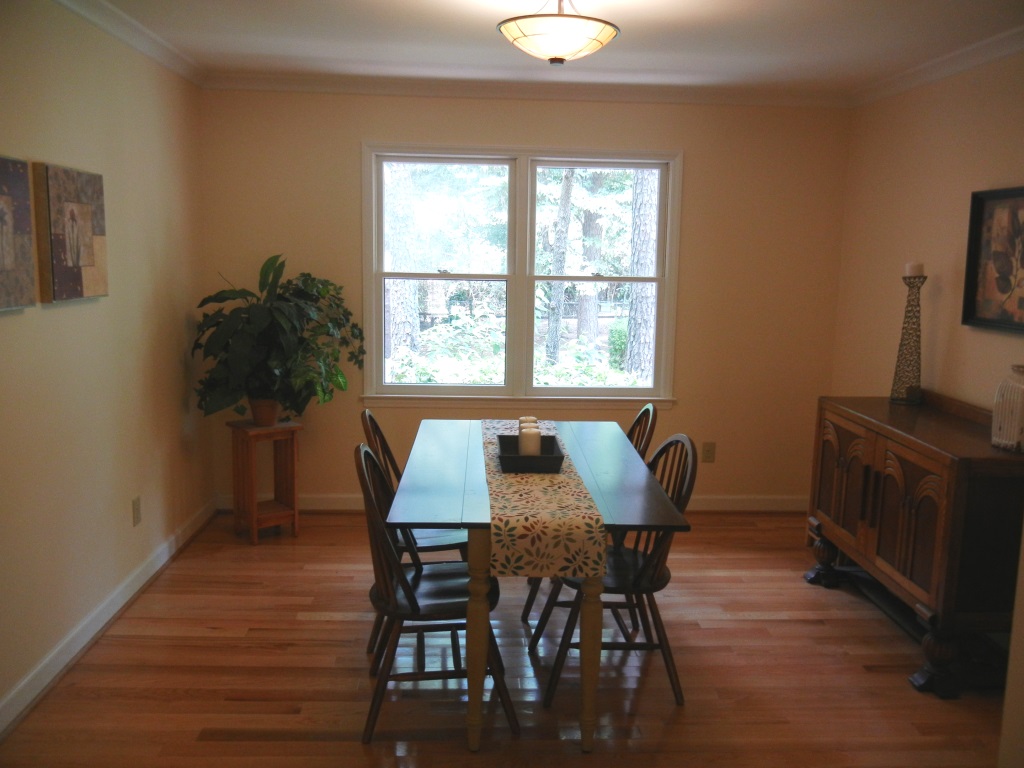 Vacant dining room
A dining room should also not be empty for the pictures. Buyers can't envision the space and can't determine the size of the table if there is nothing to give it some scale.
I had clients who didn't have a dining table and put a rug in its place plus a sideboard. This really didn't do anything and made it seem like the sellers were in a hurry to move out. In that case, sellers can smell the anticipation and can low-ball their offer because they know the homeowner is in a hurry to sell. Don't let that show in your listing pictures.
In the pictures below, we had to rent a dining table to show that you could comfortably seat 6 people in the dining room. An empty dining room gives the impression that it is smaller than it is.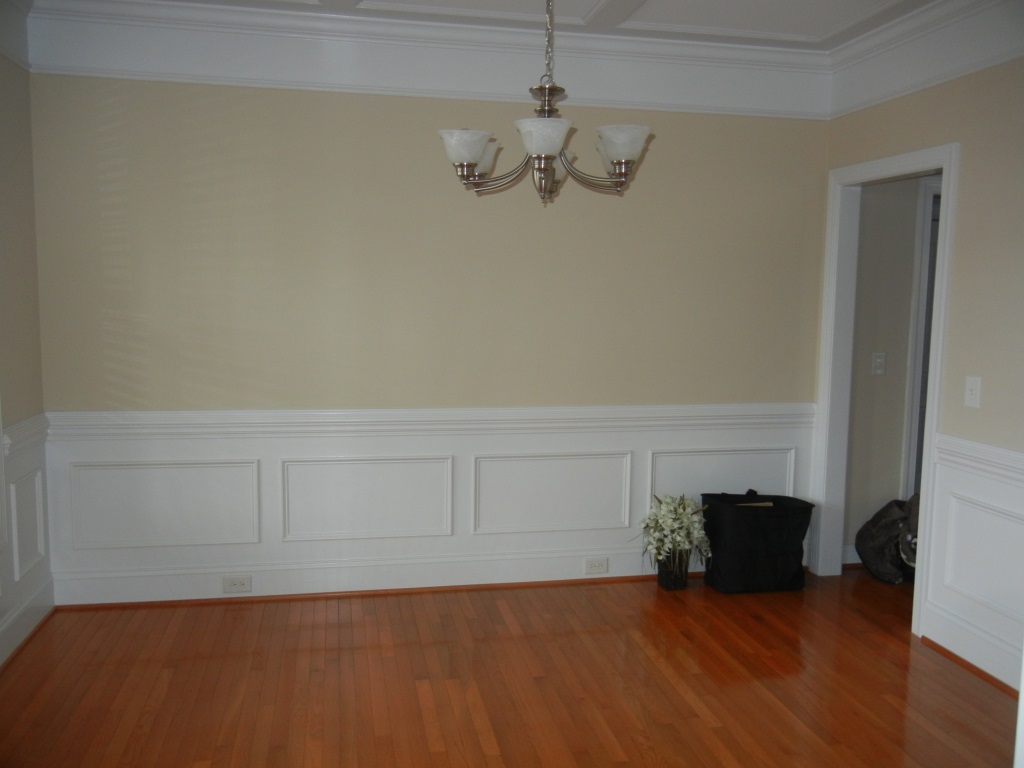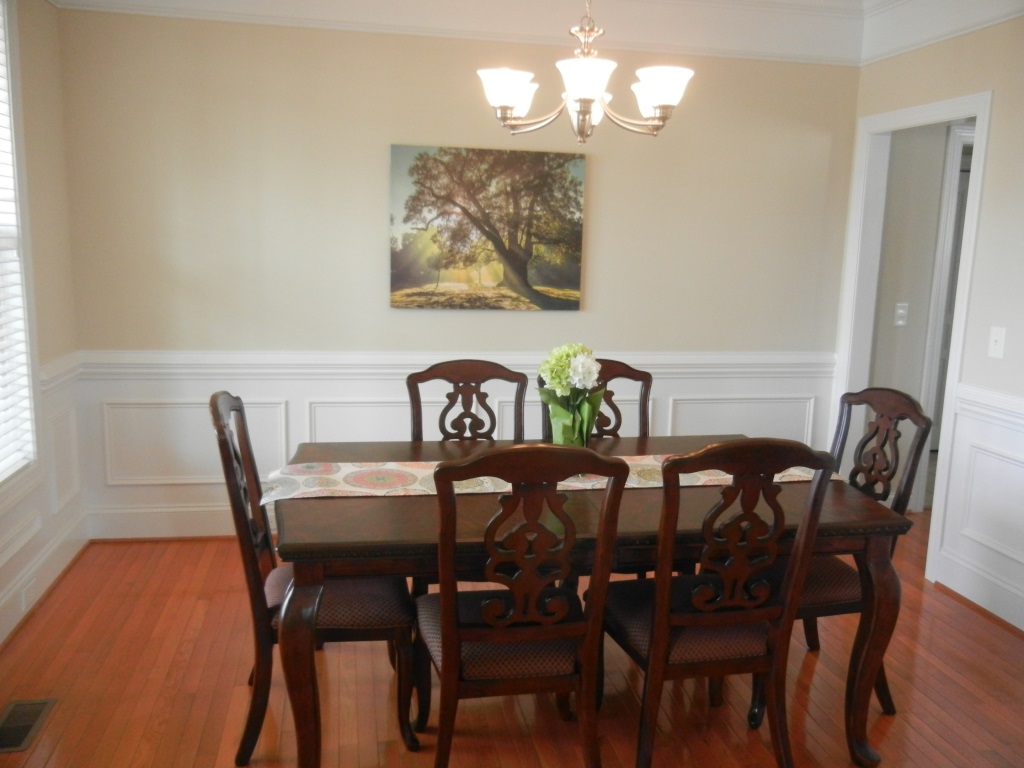 Dining Room Accessories
Once you place the dining room furniture, add accessories on the table and artwork on the wall. There is no need to set the dining room table with dinnerware. That's just what you see on TV and just screams "I'm staged".  Do you live like that with dishes ready to go for a party at your house? No. So why do it when selling a house?
Your house is not a museum. Plus for security sake, you might want to put away your favorite dinner ware so it doesn't get knocked over by accident. Accidents happen but we don't need to tempt anyone.
That is why I leave a simple colorful runner in the middle of the table and use either fresh flowers, candles or other tablescape decor to decorate the dining room table.
Artwork
Artwork is another easy way to add color and interest to the dining room. You can use a large canvas piece to center it over the wall or have 2-3 smaller art pieces. A wall gallery can be too much clutter and I recommend family photos be removed also when your home is on the market. Buyers can't imagine themselves living in the home if they are reminded constantly of who currently lives in the home.
You can also use a mirror to help you bring in more light into a dark dining room if that is a problem. A long framed mirror can up the ante on the elegance of the room too.
Sideboard/china hutch
If you do have a buffet table or sideboard, limit the amount of items on top of it to no more than 3 items. You can have 2 nice tall candles and perhaps a plant or decorative box in the middle.
If you have a hutch where you can see all the dinnerware, remove about 1/2 the items inside. You don't need to show how cramped it is which will make buyers wonder about the storage space. Space out everything that is left inside and pack up the rest for moving day.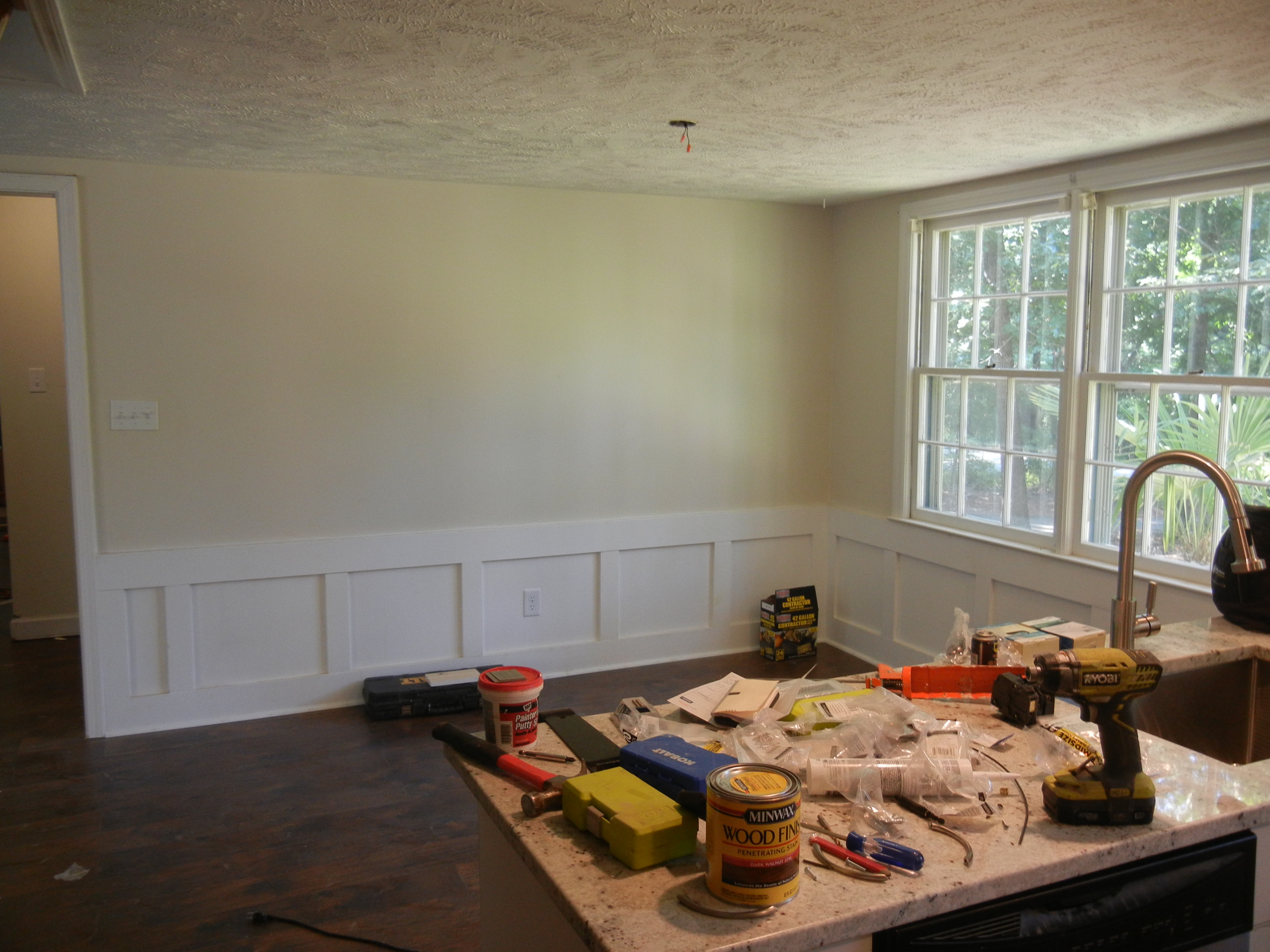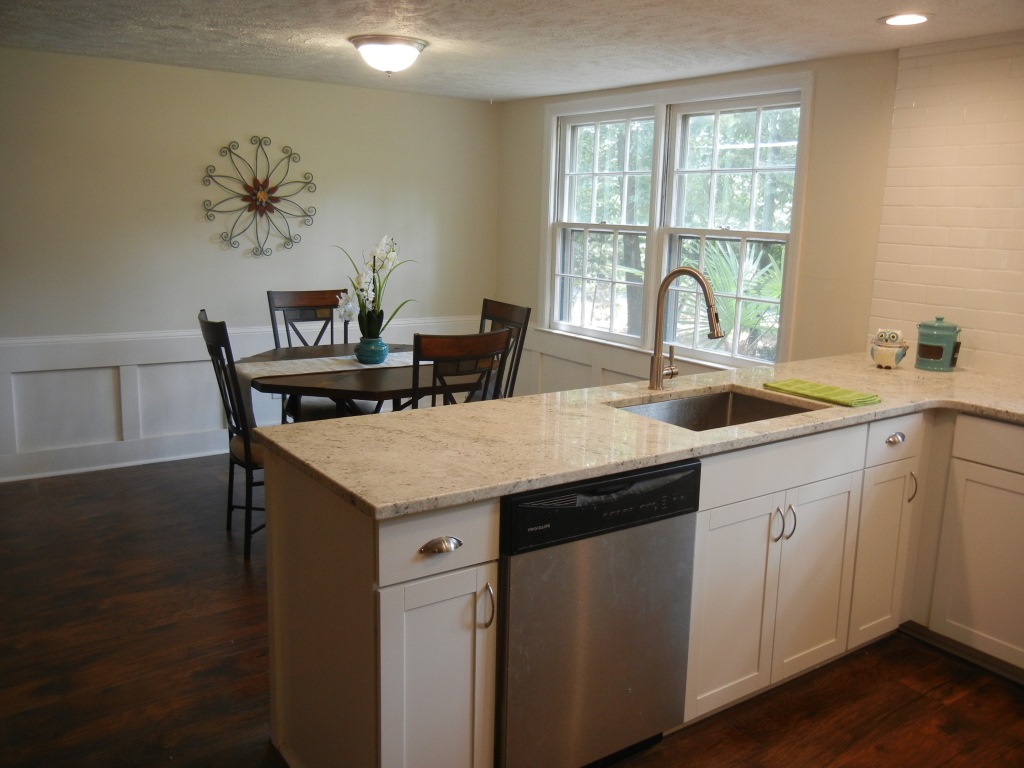 Eat-in kitchens
If you don't have a formal dining room, then show off the eat-in kitchen area the same way you would for a dining room. Add the furniture and accessories to show the space. It doesn't have to be a huge set but enough to show that you can comfortably seat people and still have room to grow if needed.
If you still need help with staging your dining room, I offer staging advice for 1 room called the Staging Snapshot. You can send me a picture of your dining room with this service. In return, I will send you a list of items to remove or add, the optimal furniture layout and any wall color options.