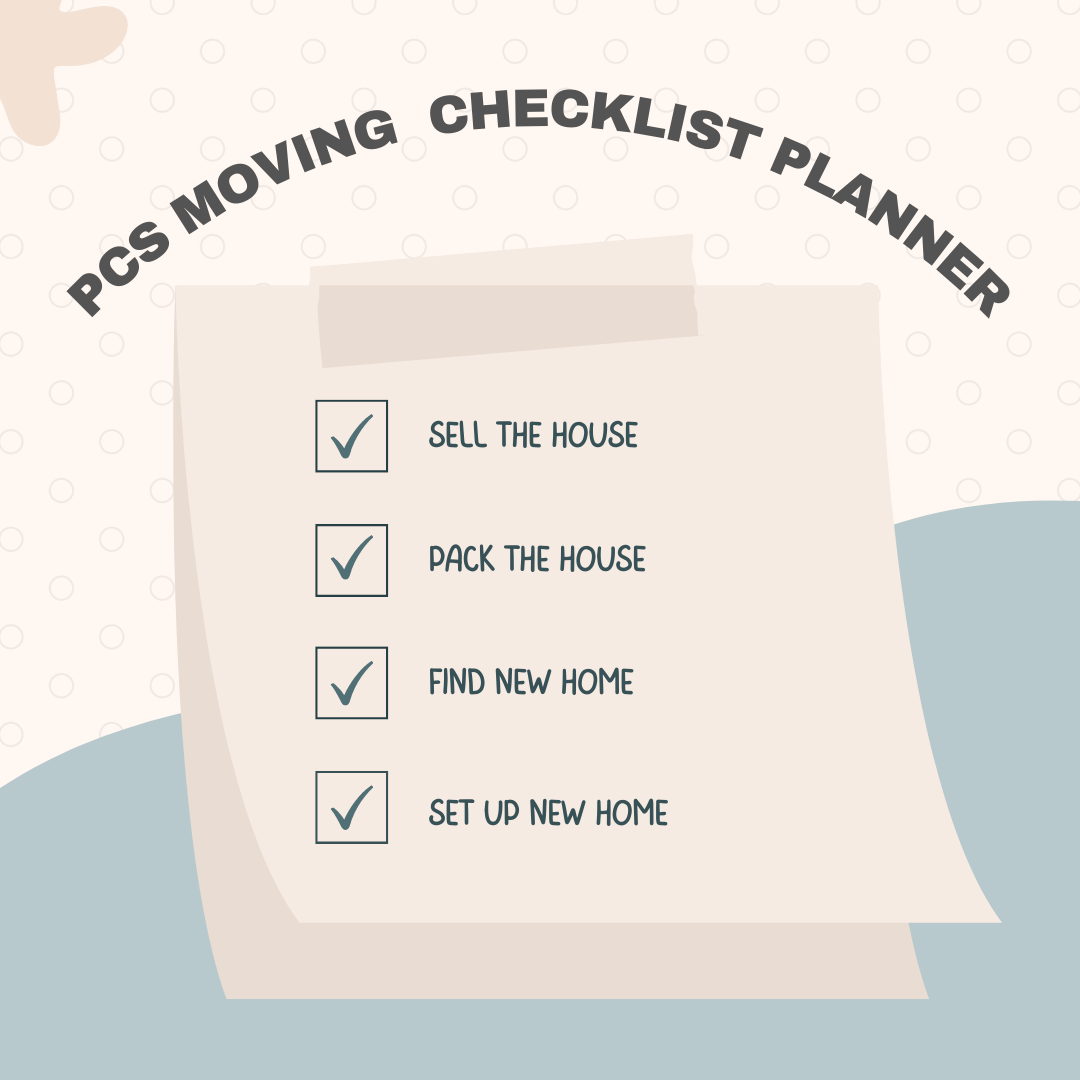 The Creative Home Podcast | Episode #260
This episode is brought to you by my Etsy shop, WillowBrookPrintable. Looking for some artwork for your rental property? Check out my instant downloads of artwork you can print and hang in your home at WillowBrookPrintable, and get your house ready to rent!
How many times have you walked into a room to do something only to forget what it was? I'm guilty of that! I live by checklists and you will see notepads and sticky notes around my house to write it down because I will forget. Moving is one large organization nightmare and there are so many moving parts whether it's a family member, the house, the paperwork, the movers, your personal job. Each area is a separate category which is why I sat down to focus on each of these areas so I don't let it slip through the cracks.
1| Creating to-do lists
I remember creating a to-do list in our last move from Germany back to the US. I wrote it out on one sheet and posted it on the fridge so that I could see it every day. Plus that way, everyone else in the family knew what had to be done like chores.
In our housing contract, we had to make sure all the windows were cleaned and the whole house had to be cleaned before turning over the keys to the landlord. I had a local cleaning service (who spoke English) come over to give me a quote to clean the empty house and wash the windows who quoted me $750! I was appalled but thought, wow that is crazy high, when we moved to Germany, our house (which was 2x bigger, cost only $400!). At this point, I was ready to pay $750 and scheduled the crew. After a few hours of thinking this over, I cancelled the cleaning crew. I knew there were times to cut corners and times to get the job done. After talking to the housing office, our contract only said we had to have the house "broom swept" which didn't require the deep cleaning or the extremely high cleaning bill that I was going to be charged. So I added to my moving list, that WE were washing the windows and cleaning everything. I tackled the windows with my kids and each day we worked on one floor (we had 4 floors). With the kids helping me clean BOTH sides of the windows we got the windows done in a week! We continued to clean out the kitchen, had each child vacuum their own room, or help with the kitchen. It was a team effort and that's how you can help stay organized and on track.
While I focus on military moves, moving is something that everyone goes through and checklists are an easy way to stay organized when there are so many moving parts. When I started writing this PCS moving checklist planner, I started with the important things you had to collect or do before even packing up the house! Some checklists are short (about 8-10 items) and others are longer (about 20-20 items). But they all flow into one another and require you to complete one before moving onto the next. That is how my brain works. That way, we don't forget things.
2| The moving checklist planner
In this moving checklist planner, I ended up with 19 spreadsheets that I created in Google sheets. These are all editable so if you have some extra steps that I didn't take into consideration, like a parent living with you, or a special needs child, you can add them yourself.
Let me share the 19 spreadsheets so you have an idea of what you can find in it to help you stay organized.
Utilities, records, misc home (like canceling memberships), house selling steps, military pcs, important documents, items to pack in your car, morning of the move and getting your new house set up. Those are just to move either across town, across the state or even across the country.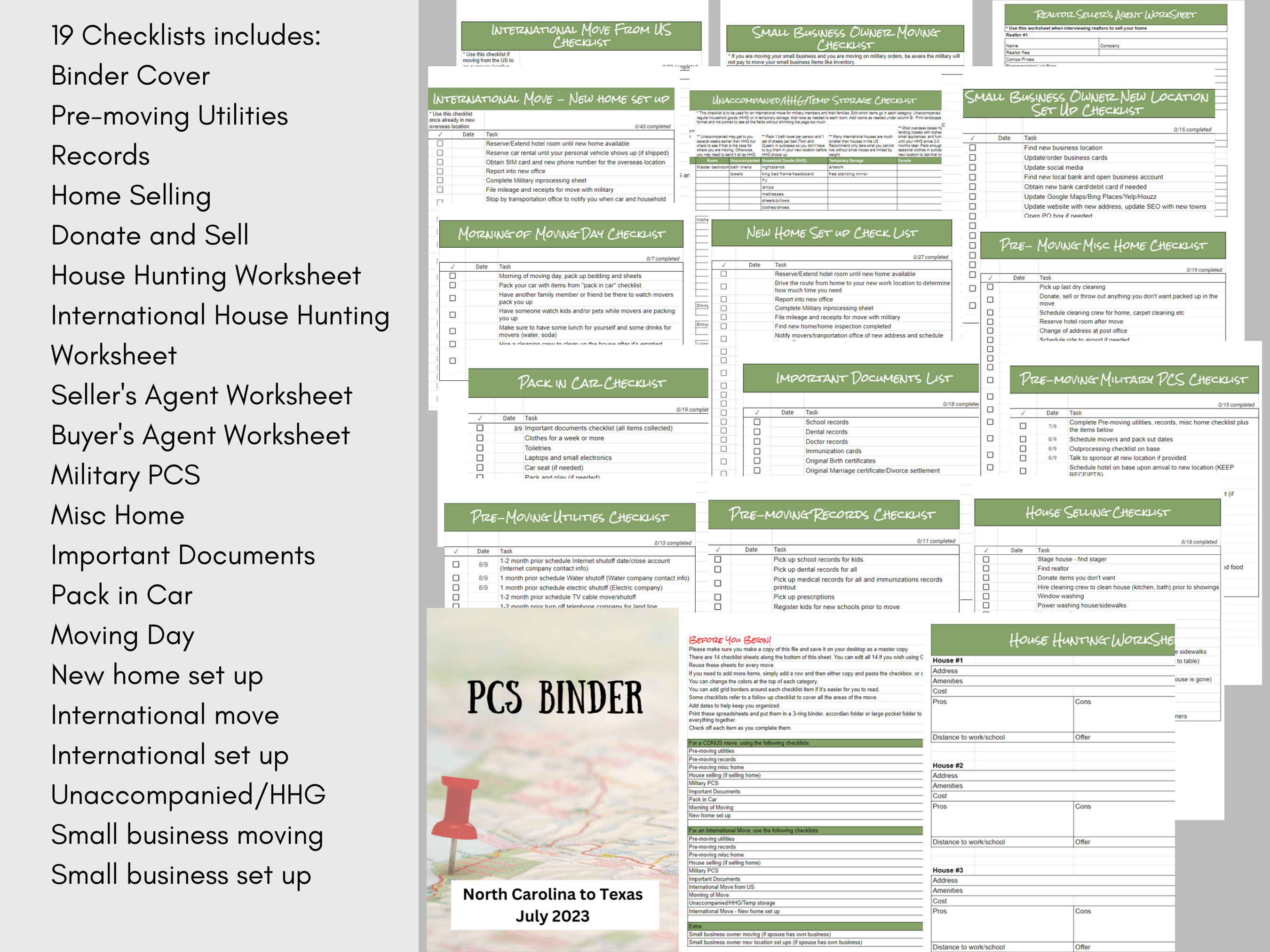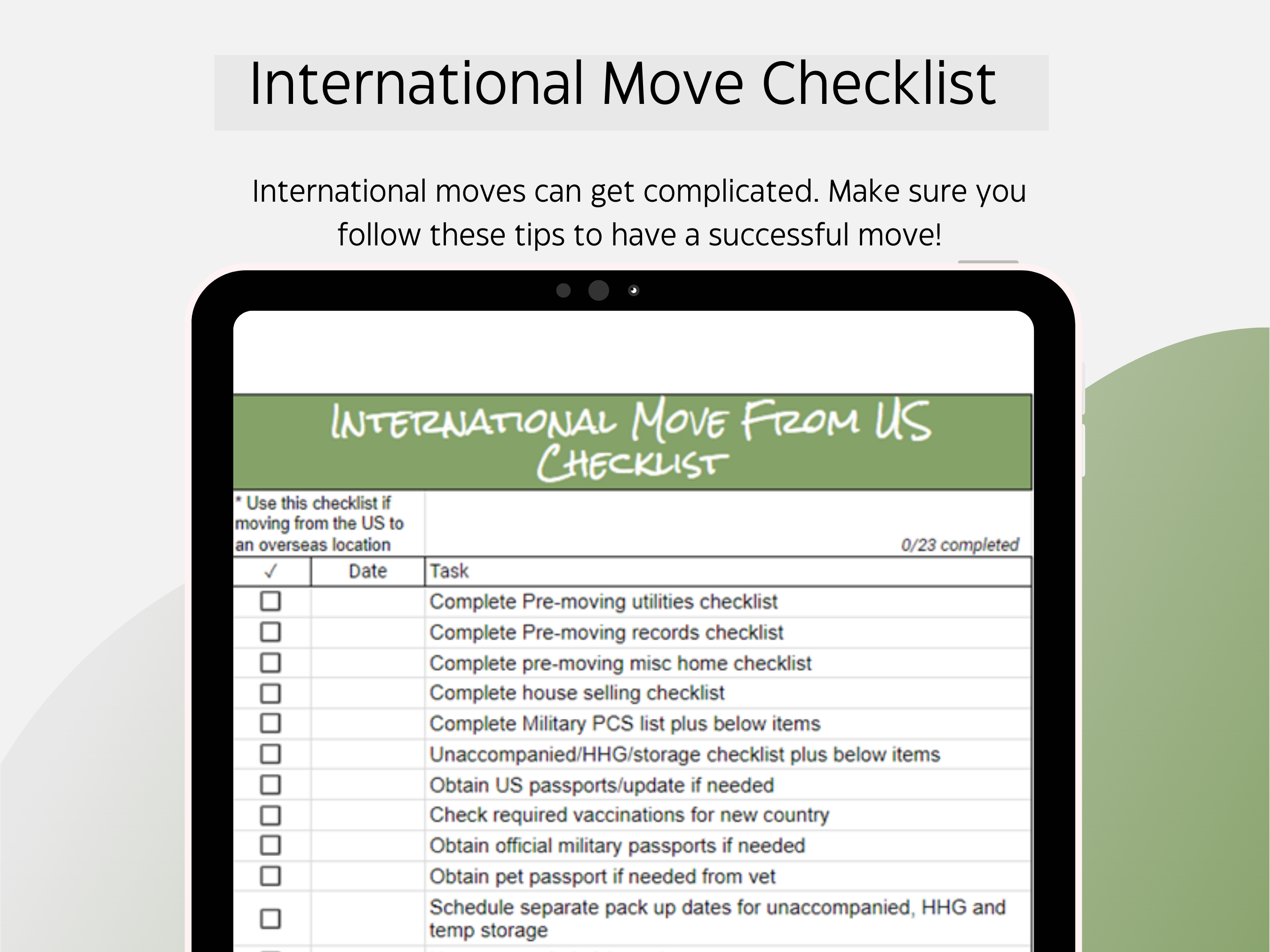 3| International Moves

Now what about moving internationally? We had no idea what we were getting into but figured it was about the same as a normal move and we were right to an extent. There are so many other factors that you have to consider when moving overseas. My husband is not an active duty member anymore and is a government civilian so there are some other rules we had to play by. There are defense contractors (like Booz Allen, SAIC and others) who work on base that can move internationally and have similar things to do when it comes to moving. These checklists will help you too.
When it comes to moving to a non-English speaking country, you have to remember that things will be different. Things like finding new English-speaking doctors, opening up a foreign bank account or finding foreign car insurance because American companies can't or won't cover you. Things that we take for granted here in the US are not so easy overseas. I cover these things in the International New Home Setup checklist as well as the International Move from the US where you need things like passports, foreign currency, and unlocking your cell phone so you can get a SIM card with a foreign number.
4| Moving checklists after the move
Not only do I cover the move FROM your old location, but I also have checklists AT your new location for both in the US and overseas. These checklists are just as important as when you moving out. Be sure to check these out in my PCS Moving Checklist Planner.
5| Small business moving checklist
And for those of you whose spouses have a small business, do they sell their business? Move with you? Close it down? There are steps they have to take legally. I ended up keeping my business on hold if you will, because I really could not work much overseas as a home stager. Some spouses have to close their business if they go overseas depending on the situation. I knew we were coming back so it made no sense to close it because I could not get the same business name for 5 years once I closed. So I added small business owners' checklists for the move-out and reopening it in a new place.
BONUS TIP
One thing I do recommend doing is making copies of your important documents. I still have it after 4 years. I made copies of important records like passports, credit cards, birth certificates etc and put them in it's own flexible binder with sheet protectors. It's not the rigid 3 ring binder but a presentation folder with fasteners that you can add sheet protectors. I update it when passports are updated or get new documents. It's a nice backup that I use all the time even after a move.
However you organize yourself, you can use these checklists to make your move easier. And if you move every few years like we did, you can reuse these checklists. No need to start fresh. Just start a new accordion file or binder and check off each item. I have a collection of them over the years because I've had to refer back to them for one thing or another. I will leave a link in the show notes below so you can get your own copy at my etsy shop at Willowbrookprintable. Plus when you purchase this PCS moving planner binder, you get a free checklist on the the top 5 things you should unpack first in your new place.
So that's what my PCS moving checklist planner is all about. While I focus on military moves it can also help those of you who aren't in the military. Most of the checklists are non-military and you can skip the ones that don't pertain to you. And since I made this in google sheets, you can edit the tasks and make it more personal to you.
Rate, Review and Follow on Apple Podcasts
"I used Kasia's Creative Home Podcast as my main guide for how to stage our home" If that sounds like you, please consider rating and reviewing my podcast. This helps me support more people to help them sell their home or decorate their new one. Click here, scroll to the bottom, tap to rate with five stars and select "write a review".
Also, if you haven't done so already, follow the podcast. That way you don't miss a single episode. Follow now!