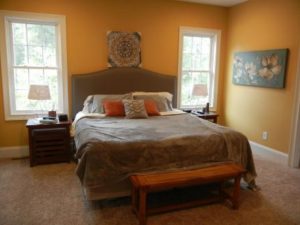 As a home stager, I move furniture around or rearrange items and often hear clients say, "Why didn't I think of that? Of course that looks better over there!" One of the reasons is because you see your room every day. When a fresh set of eyes comes in, they are not emotionally attached to the items and will look at things differently. This happens more often than you think. As a home stager, I find it easier to change things in a client's house than in my own home for the same exact reasons. But as an interior decorator, you have many options to make your home your own. You can be bolder with colors or ideas than you would if you were staging a home to sell. This boldness challenged me when it came time to decorate my own master bedroom. However, I must confess I was at my wit's end trying to figure out the color combination.
Master Bedroom Design Dilemma
My husband chose a bolder bedroom wall color than I would have chosen but I thought, "we can work with it." He chose Sherwin Williams, Torchlight, which is a darker yellow color. It is a very happy cheerful color and different than the normal beige, gray or blue that are trending for bedrooms. A new bed was bought and I found a gray upholstered headboard that worked perfectly for the space. But the inspiration stopped me there. Since most of the house had orange and blue tones I thought I would incorporate blue in the bedroom too. By try as I might, the blues and yellow just didn't want to work in the room. I was stumped on the curtain colors too! How is this room stumping me so much?!
Interior Decorator colors
As an interior decorator, you sometimes have to stop fighting the colors you want and look at the big picture. I was out one day looking for décor for a client when it finally hit me. Yellow and gray are a great combination in a room! I might want to consider incorporating some black in the room as well. Black is known to be a little more sophisticated and makes the room feel more elegant too. "Well why not," I thought. "This is a master bedroom and we need to make it feel luxurious." Since the bedroom faced northeast, black curtains would be a great way to block the incoming light in the morning. So I ordered black curtains and added some black rustic artwork for the yellow walls. I added some yellow and gray throw pillows and voila! A luxurious master suite that is functional and elegant.
Looking at the obvious
After I completed this room, I then looked at another room that had the same wall color. This room was already set up with furniture and artwork. My eyes then traveled around the room with gray curtains, yellow and black framed artwork, and more black features. The color combinations were sitting right before my eyes and the interior decorator in me didn't even notice it! While you may think you feel foolish when someone can see the needed changes, push those thoughts away. Sometimes you need to step away from the problem and work on something else before you are hit with an inspiration.
If you need help with inspiration in your own home, give Blue Diamond Staging a call.