Linen closet essentials
I see this everywhere and even had it in my own linen closet for the longest time. How do you accumulate so many things in the linen closet? I cringed every time I used to open mine because I knew that whatever I was looking for would take me some time to find it. I finally got fed up and decided to do something about it. Here are some tips on how to organize your linen closet once and for all.
1. How many towe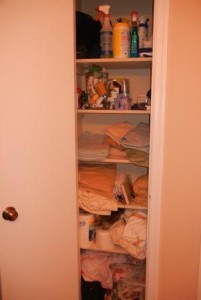 ls do you really need? Face it, we have all sorts of towels in there; the beach towels, bathroom towels, guest towels, even the ones that are so ratty we don't want to throw them out because you never know when you will have something leak. As a general rule of thumb assign each person in your family 3 towels. This allows for one hanging in the bathroom, one in the hamper and a fresh one in the linen closet. Give the beach towels a new home possibly where you store your seasonal items and the ratty ones can either go in the garage in a bin or in the trash. Maybe the local pet store would love to get your ratty towels for the animals. Store guest towels in the guest room if possible or in a bin that can slide under the guest bed. Depending on the number of members in your family you can dedicate a shelf or 2 in the linen closet.
2. Bed sheets. Each person in the family should have a maximum of 2 sets of bed sheets. This rule can be thrown out the window when you have young kids. You know there will be nights when you will go through 3-4 sets during potty training or when the kids are sick with the stomach flu. At this point, I recommend storing their sheets in their closet and not in the linen closet. You can have a backup emergency set or 2 in the linen closet for those kinds of nights, but you don't need 10 sets of twin size bed sheets. Dedicate one shelf to these bed sheets.
3. Bathroom accessories. How many times do you find yourself looking for the toilet paper only to find there are no more rolls? You can store these items and others like toothpaste, shampoo, tissues etc in the linen closet or in a bin under the sink. Also go through your items and chec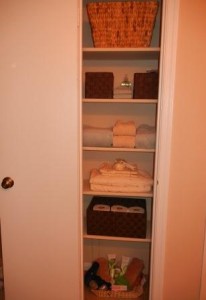 k the expiration dates. If they are expired, give them the boot. Travel sized bathroom items can be stored here too. Put them in a travel bag so it is ready to go when you are. Again no more than one shelf here too.
4. Guest basket. There are times where you may have a last minute overnight guest. Make them feel special by providing some items they might have forgotten such as travel soap, shampoo, razor or toothbrush. Put them in a caddy or basket along with a hand towel and you will win hostess of the year! If you don't have a dedicated space to store it, you can place this on a shelf in your linen closet.
5. Cleaning supplies. Some people will store cleaning supplies in the linen closet because it may be on the second floor of their home. This is so they don't have to drag the supplies up and down the stairs every time they clean. If you have this, go through them and only keep the essentials to clean the bathrooms such as toilet bowl cleaner, tile cleaner, mirror cleaner, and something to wipe down the bathroom countertops. Store these in a caddy and dedicate a shelf (or half shelf) for these items.
Once you pare down the items and organize your linen closet, you will wonder how you fit everything in there before and why you didn't do this earlier. Any items that don't go in the linen closet can be donated to your local charity. Do you have any other tips to organize your linen closet?