Home Selling Secrets
Selling a home can be a daunting task. Whether you are moving for a job or to get closer to family, it is one of the most stressful things in life that you can do. But you can relieve that stress by depending on some people to help you get through it faster. While you may think your home only needs some decluttering to make it more pleasing, there are a lot of tasks that need to be done before selling a home.
Home Décor
First and foremost, your home décor is done in a way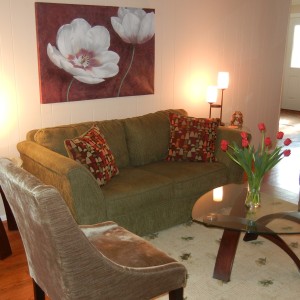 that pleases YOU. It is your home and you surround yourself with items that make it homey. However, when it comes to selling your home, it now has to appeal to many other people. While you may love the wallpaper in your kitchen it may be outdated for others and a turnoff. If potential buyers start looking at things that need to be done to the house before they move in, the offer price will be lower than you expect. You now need to decorate your home to please others not yourself. As a reminder, this is only temporary and when you move to your next home, you can decorate that one with all the wallpaper you want.
You will be judged
People will judge how you lived as soon as they walk in the door. If you have religious articles hanging around or pictures of your pets, you will be judged. Selling a home again is meant to make others feel like they can live there, not you. They don't want to be reminded this is someone else's home. They need to feel like they can live there and not see your personal items.
Last minute requests to show your home
You will get phone calls at all times of the day even though you state certain hours on the listing. You get mad but then realize, well this could be the ONE. So you grin and bear and leave the home so that potential buyers can visit the home. And YES, you must leave the home. It is the most uncomfortable feeling to be in a home when the actual owners are sitting there eating dinner. If you are eating dinner, ask the agent to delay for 30 minutes so that you can finish up and clean up before they come in. Yes this is inconvenient, but this is part of selling a home. This brings me to the next point.
Your home must be spotless
And I mean cleaner than clean. If you don't have the time to clean everything like the inside of the fridge, the cobwebs in the corner, the nasty grout in the shower, hire someone else to do it. This also means that dishes need to be done and put away after each meal. Towels need to be hung up after each use, clothes baskets should not be seen in each bedroom. Remember you are selling a home and they don't want to be reminded of the cleaning that needs to be done. If a home is clean then potential buyers will also think the rest of the house is maintained.
Storage
Garage, basement and unfinished storage areas are part of the property. They must be cleaned out and organized and not overflowing. Home buyers want to see what storage space is available for all their items. Toys also need to be stored away. This does not mean they are thrown into a closet haphazardly. People will look in your closets to see the storage space. If they open the door and toys come falling out, you have too much stuff in there. Pack away toys that are too big such as playsets, tents, large train tables, dollhouses etc and put them in off-site storage. Do NOT store extra stuff in your garage, shed or basement. Save only a few small toys your children cannot live without and store them in baskets with lids so you can quickly clean up when last minute showings are needed.
If all this seems too much, a home stager can help you determine what needs to be done when selling your home. They have the resources to get your home in top shape and can recommend painters, handymen or home cleaners to make your home sparkle. Selling a home is a life changing event but it doesn't have to be stressful. Bring in experts to help get your home ready for the real estate market.