Costly home staging mistake
We all make mistakes and as James Joyce puts it, "Mistakes are the portals of discovery." As a home stager I made several home staging mistakes in my first few projects. While some may be trivial, they were stressful to me and I vowed I would never do them again. The one major mistake I made was not measuring the width of the staircase when trying to bring in rental furniture.
In one scenario I had to bring in rental furniture for a townhome. I didn't measure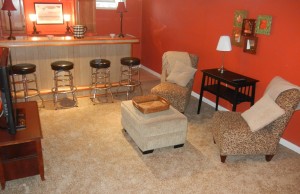 the staircase for a couch I wanted on the second floor and did not realize it would not fit. The delivery men tried all sorts of ways to get the couch in…through the 2d story back sliding door…nope. They removed the feet off the couch…still would not fit through the door. They even contemplated hauling it up over the second floor balcony railing but it was too high and not safe at all! They really tried their best but it could not be done. I had to send it back and get a smaller loveseat. I measured the staircase width and had to come back to meet the delivery on a different day. So not only did I waste my day, the room was not ready for the photographer to take pictures for the web listing. This home staging mistake spurs me to measure every opening to include interior doors and pick furniture that will fit.
As luck would have it, I had a chance to redeem my home staging mistake in another home. The home was a narrow row home built in 1890. The front door was 26 inches wide and the doorway to the basement rec room was 24 inches wide. After going through several rental furniture companies I really only had one choice on staging the basement rec room. It had a bar on one side and a space to make a comfy seating area. I found two slipper chairs that measured 23 inches wide but had a cheetah print on it. The print was a bit daring for me but because this home was situated in a younger neighborhood, the rec room turned into a hip and stylish room. After staging a TV stand, TV, the 2 chairs, ottoman and side table, it quickly became my favorite room in the house! During the broker's open house, the brokers loved the staging and commented on how open the basement felt.
While this worked in second scenario, I am still gun-shy when bringing in rental furniture. Measure twice and order once is my lesson learned. I will still hold my breath every time I bring in rental furniture so that I do not make the same home staging mistake twice.