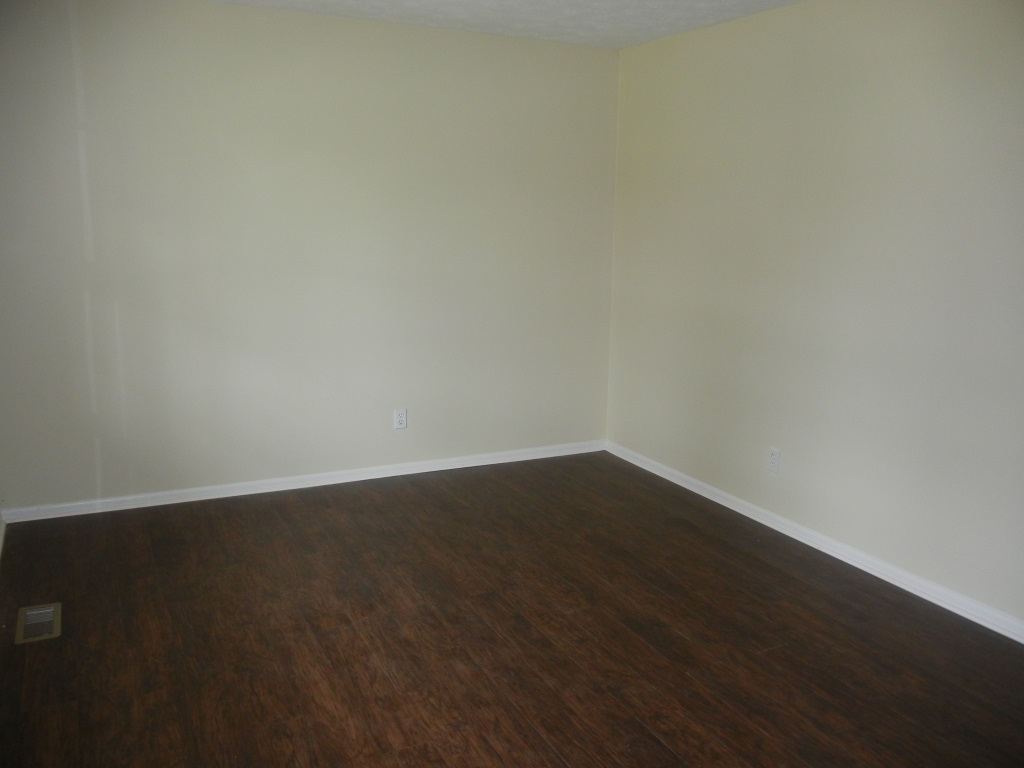 How to fill that large empty wall space
What do you do with that large empty wall space that is staring you in the face? Do you wonder what to do in the living room, dining room, or a bedroom? You are out ideas and don't have any inspiration. Let me share some ideas you can easily use and some products that may be new to you to fill that large empty wall space.
Living room
Living rooms are normally the biggest room in the house but they also tend to have A LOT of wall space. You can use large pieces like metal art or 1 large canvas piece but I know those can get expensive. Instead, you could find 2-3 smaller art pieces. It really only has to be something above the couch. Don't feel like you need to fill the WHOLE wall. A 3 foot by 4 foot piece of canvas art is big enough to go over the couch.
Wunderwall Murals
Another idea to fill an empty wall is to use products from Wunderwall Mural. This is great way to add an accent wall using removeable and repositionable wallpaper. Check them on Instagram. They come in long strips like wallpaper and shipping is quick too. It's a great way to add interest without painting a wall. They have these chevron wall accents you can use and another idea is a rainbow over a kids bed to look like a headboard.
Maybe you have a walk in closet and at the end of the closet, you can add some mural like this or something else just to break up the monotony of the space.
Notice that when you do have wallpaper hanging up like this, you don't have to add any decorative item on it. Wunderwall Mural makes your home look put together and they have many different styles to choose from.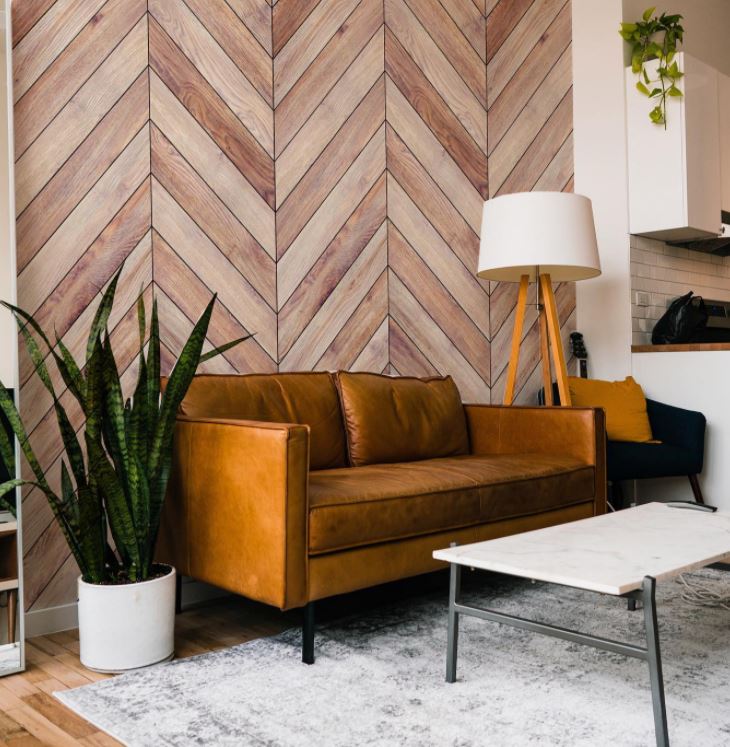 Use a large clock or mirror
A large decorative clock can fill up an empty wall over a couch in a living room. You can find these in places such as Lowes and Hobby Lobby or online stores such as Wayfair and World Market. I would suggest picking a clock that is at least 2 feet wide if not bigger. Notice in the picture below, the lamp between the clock and artwork helps fill in the space in the corner. There is no need to add anything else to the wall.
Mirrors can also help bring in light if hung across from a window. It helps bounce the light around the room to make it feel brighter and bigger.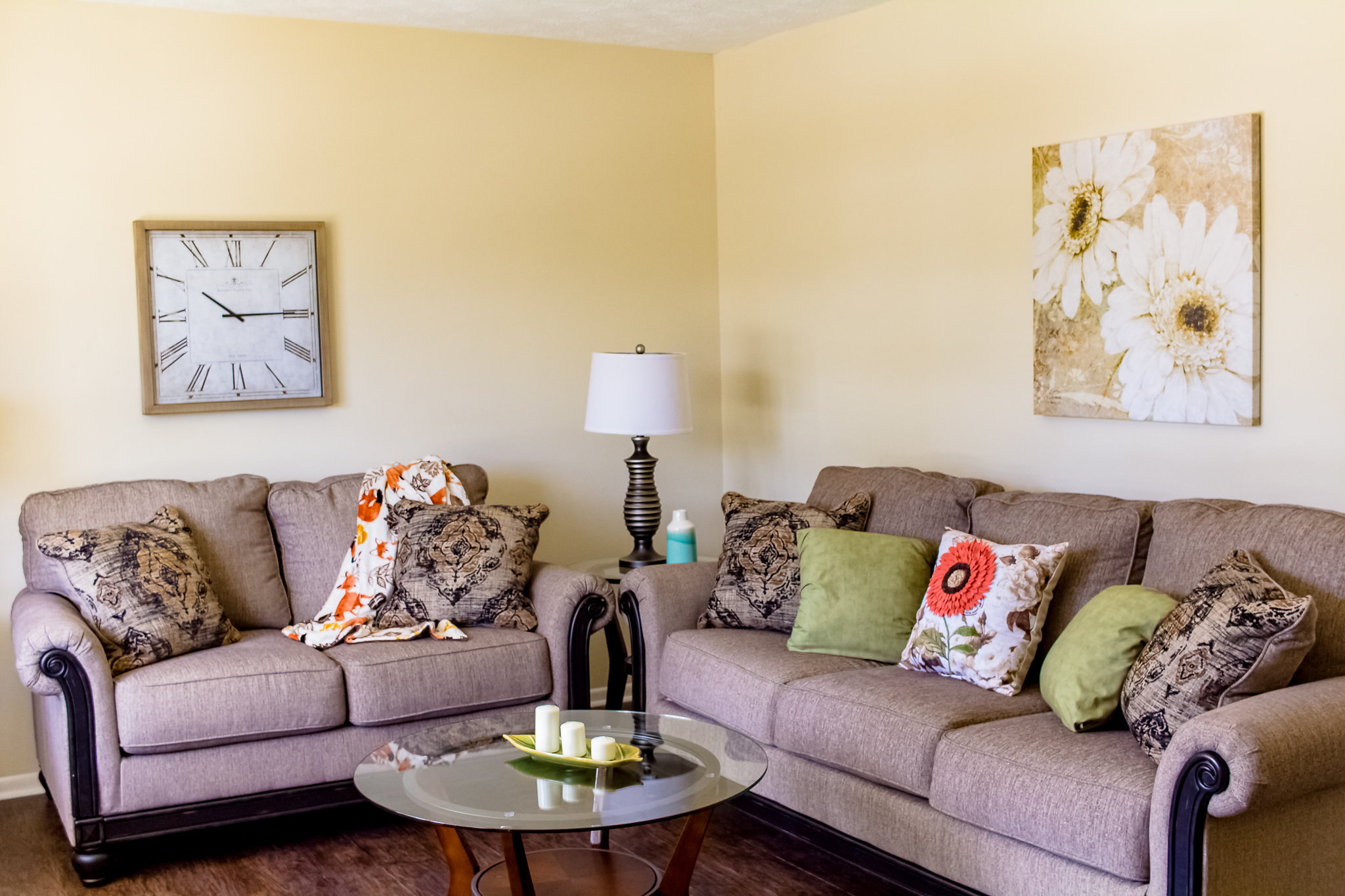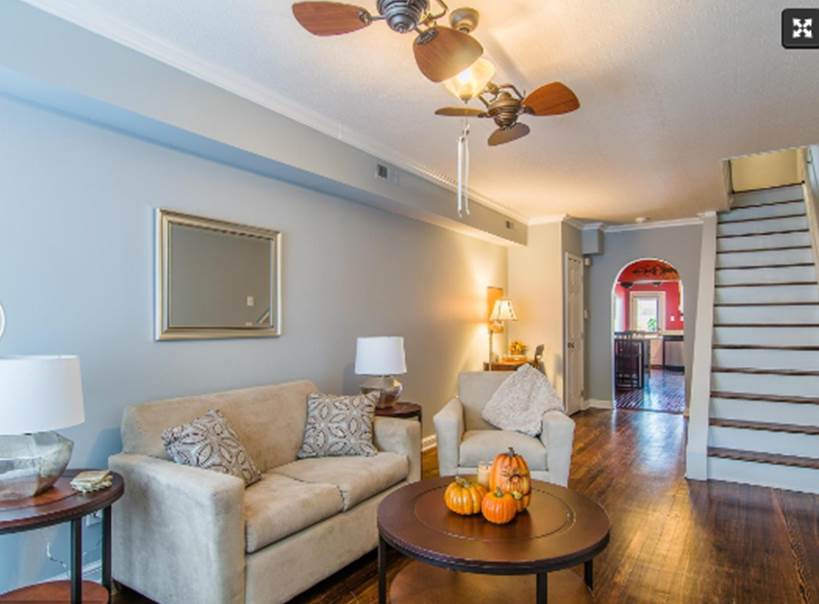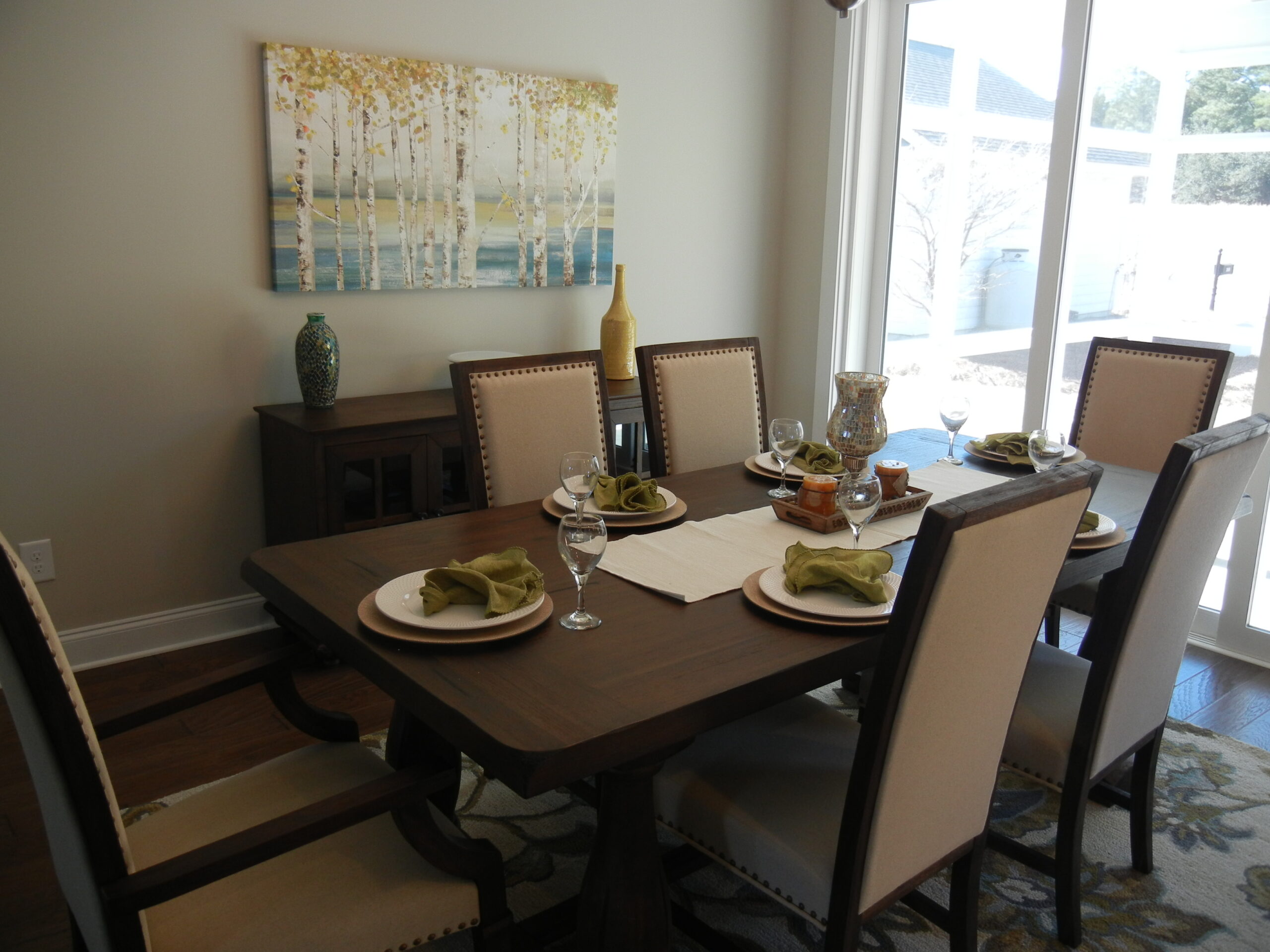 Empty wall in dining room?
If you don't have a hutch, you can easily hang a large piece of canvas centered on the wall. A mirror would work just as well. But don't feel like you need to fill the whole wall. Especially when it comes to staging, sometimes less is more. Artwork is also a great way to introduce some color and create a focal point in a room.
If you need some artwork, you can download and print yourself some landscapes or cities from my Etsy shop, Willow Brook Printable. You will find pictures from Germany, Italy, Amsterdam and more! Get inspired and find a piece that you can use in the dining room, office or even bedroom.
Use personal photos and mount on canvas
This is a great way to add something more personable to your space. In this office, I had the home owner blow up a favorite picture onto a canvas and hung it behind the desk. You can use places such as Walmart, Canvaspeople or Smallwoods to mount your travel or family photos.
On the next wall, we added bookshelves and some small art decor pieces between the bookshelves to help fill up the empty wall.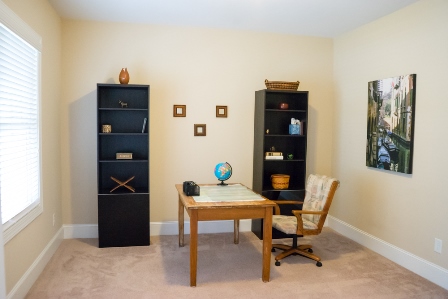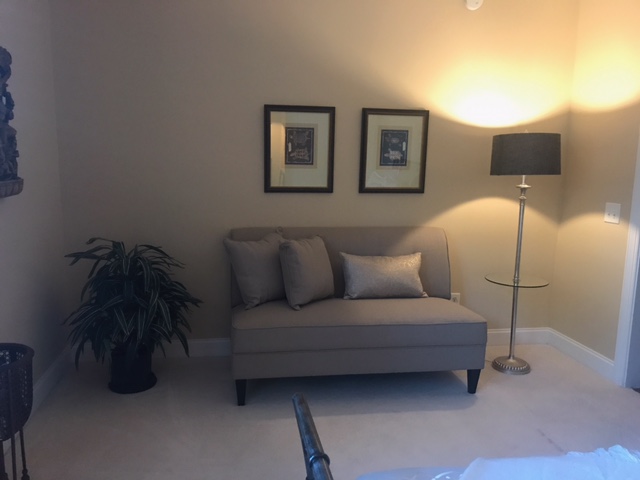 Use 2-3 framed pictures over a loveseat or couch
While this is a long wall in a bedroom, you can easily fill it with a few things in the corner like a floor lamp and plant to anchor the sides. That way, the wall in the middle is not as long and empty. You can then hang 2-3 pictures over the furniture. Make sure you center them over the piece of furniture so it balances out the room.
You can use a side table and lamp on both sides of the couch if you don't have a floor lamp. It gives the same visual effect of centering the pictures over the couch.
Large world map
A world map is another great way to fill up an empty wall space. You can hang this in your living room over a couch or maybe in a long, wide hallway. If your family travels a lot, this is a great way to show where you've traveled and where you still want to go. This can be an interactive piece and not something that just hangs there either.
You can find this push pin map on Amazon (I am an Amazon Associate).You can also find wall stickers and use those on a living room wall.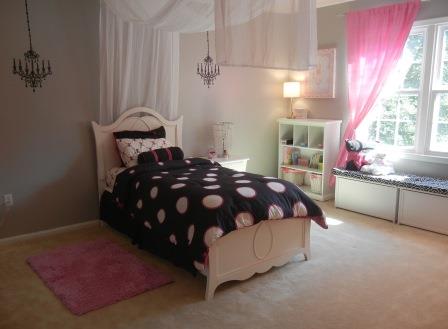 Wall stickers
If you have kids and you know their tastes are going to change, wall stickers may be your best bet. Use a neutral wall color and add fun things like dinosaurs, a castle  or a garden. Most wall stickers peel off easily, but there are times when they may remove some paint. So be aware of the types you buy if this is the route you go to fill up an empty wall space.
 You can find wall stickers easily online or at Hobby Lobby. Make sure to select vinyl wall stickers so they peel off easier.
Mix it up
Don't be afraid to mix it up. Walls can also be "zoned" like in this picture. Notice the large wall art over the couch but then to the right you can add some floating shelves.
If you don't want to install floating shelves, you can easily add a tall bookcase to break up the large empty wall in the living room.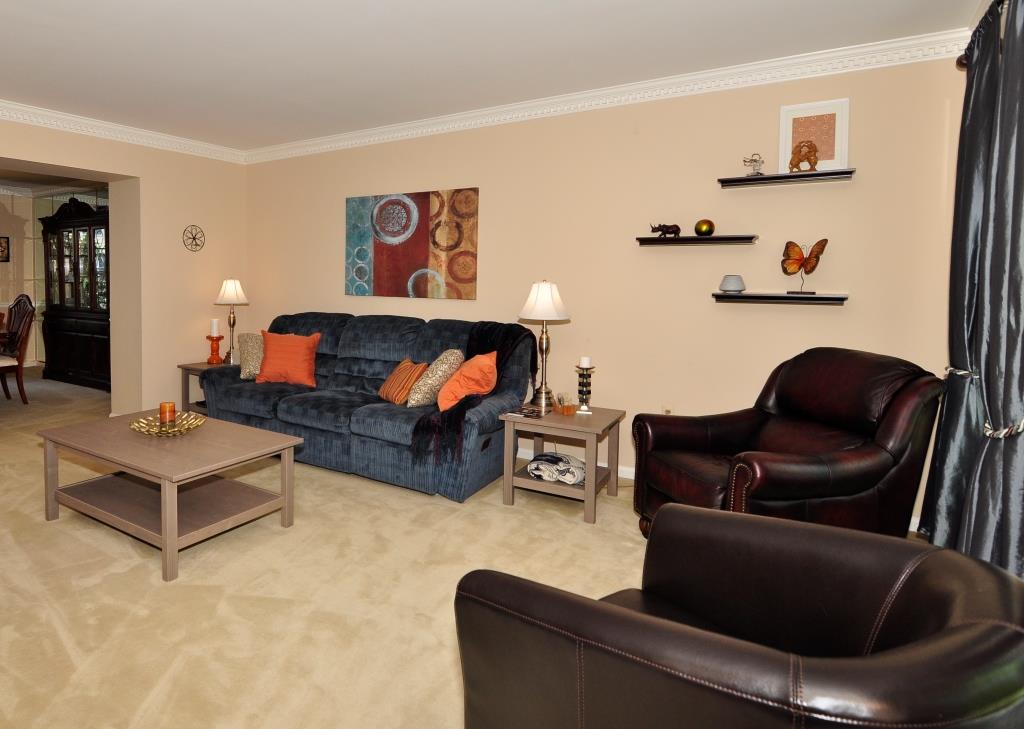 Master bedroom
Hanging artwork over your headboard in your master bedroom is something you can easily do to cover up an empty wall. You can use metal artwork or smaller, horizontal canvas pieces for a master bedroom. If you don't have a headboard, you can use larger canvas artwork and prop up the pillows to make it look like you do.
A kids rooms can also have some decorative mirrors over the bed or artwork.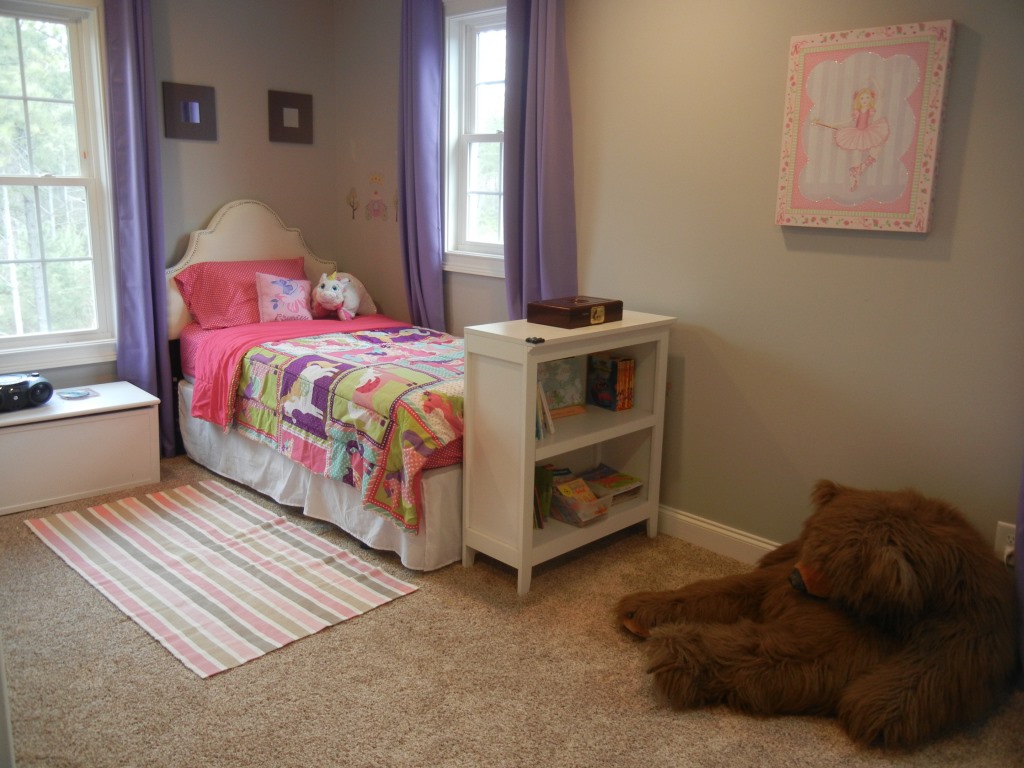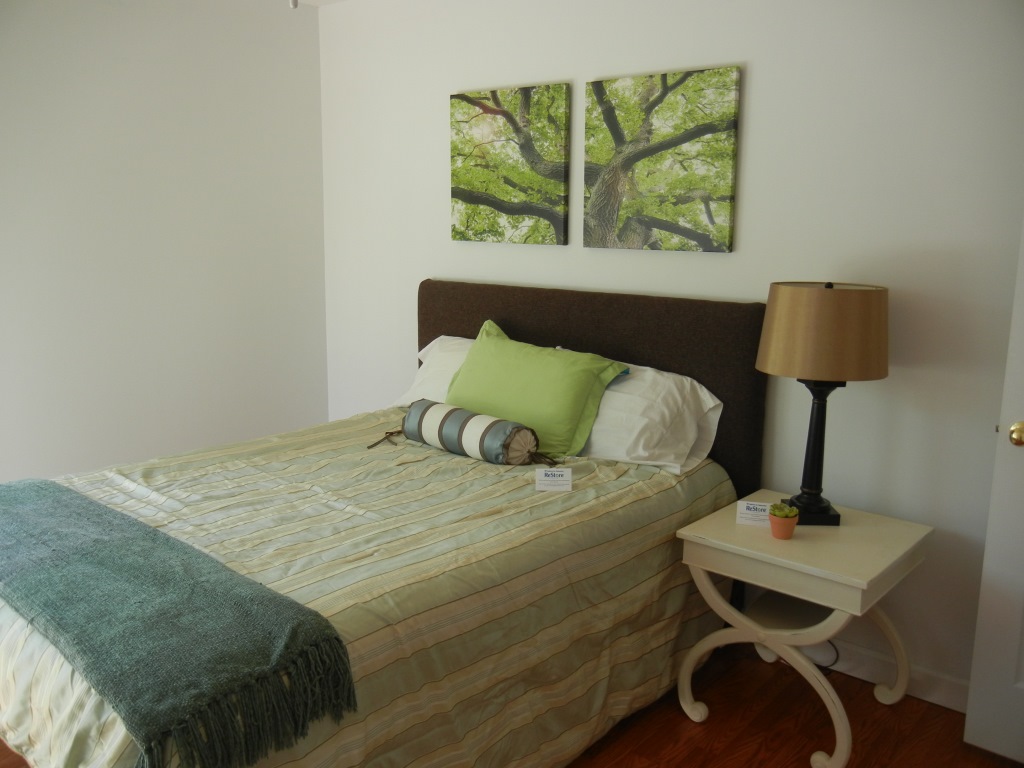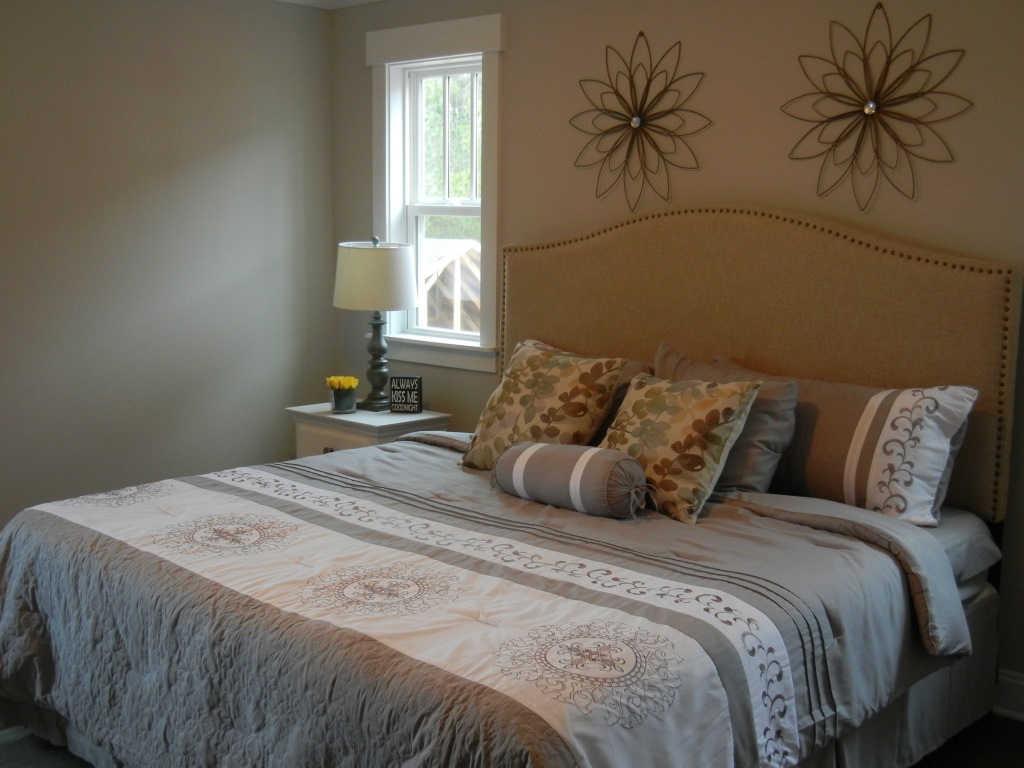 Create a Gallery Wall in your empty wall space
Use white or black 8×10 wall frames and insert free printables like plant prints. I used Monstera and leaf prints, placed them in basic frames and them hung horizontally.
If you are a crafty person, use your leftover fabric pieces. You can cut fabric to fit in a frame and place them in a grid pattern with 3 across the top and 3 across the bottom. Use fabrics in same colors but different patterns.
Teenager's room
String some white lights and hang favorite pictures like artwork or favorite quotes. My daughter loves to paint her favorite quotes on small canvas you can buy at Michael's and then hangs them up in her room. If your child is creative or loves art, hang up their artwork in their room versus on the refrigerator. Then they can change it out as they get older.
For more sports related interests, use old skate boards as a decorative shelf. Old skis are also a great decor item to hang up above the bed. The thrift store such as Habitat for Humanity Restore has many treasures that you can use to help you decorate your blank walls.
Baskets/Plates
If you have some round and mostly flat baskets, you can hang those up as well. Hang them horizontally especially with texture. Woven in different patterns and colors. My friend, Marisa at The MarketplaceNC, sells many unique baskets you can hang on your wall. She will even put it together for you! So take a look if that is something you want to do.
I hope all these ideas will inspire you to help you fill up that blank empty wall. There are so many different things you probably have already stored away, you just need to pull them out and hang them up.
Need more decorating help?
Make sure you furniture is in the most optimal place before you hang up your artwork. Contact me to help you finalize the layout with a decorating consultation.
Need staging advice for 1 room?
If you are selling your house and don't know what to do with those bare walls or have other staging questions, contact me to help you!