If you are getting your house ready to sell, you may have heard that bathrooms and kitchens sell the house. So when it comes to staging your bathroom, you may not want to spend a lot of money it. Here are 10 ways to update your bathroom for under $100 so you can sell your home faster.
Bathroom towels
New bath towels can be one of the easiest ways to update the look of your bathroom. Tattered, old and worn out towels are not the look you want to show in your bathroom. Big, fluffy towels are a great way to add texture to a bathroom and freshen it up. You can pick white ones or add color to the bathroom with blue or green towels. Be sure to coordinate it with the colors in the room. New towels can run you about $10 each and you can pick them up in many home decor stores. just make sure you don't tie a ribbon around them as part of a staging gimmick. Ribbons look "too staged" so stay away from them. Fold them in thirds on a towel bar so you can fit 2 towels next to each other.
Recaulk your bathtub
The caulking around your tub may be old and discolored. You can easily freshen it up with some new caulk. Remove the old caulk, clean the tub dry and then recaulk it. This can be easily done by the homeowner if you have the right tools (a caulking gun and white caulk). I found this video on how to open the caulk tube and then a video by This Old House to show you how to caulk around the tub. Let it dry before using the tub so that it sets.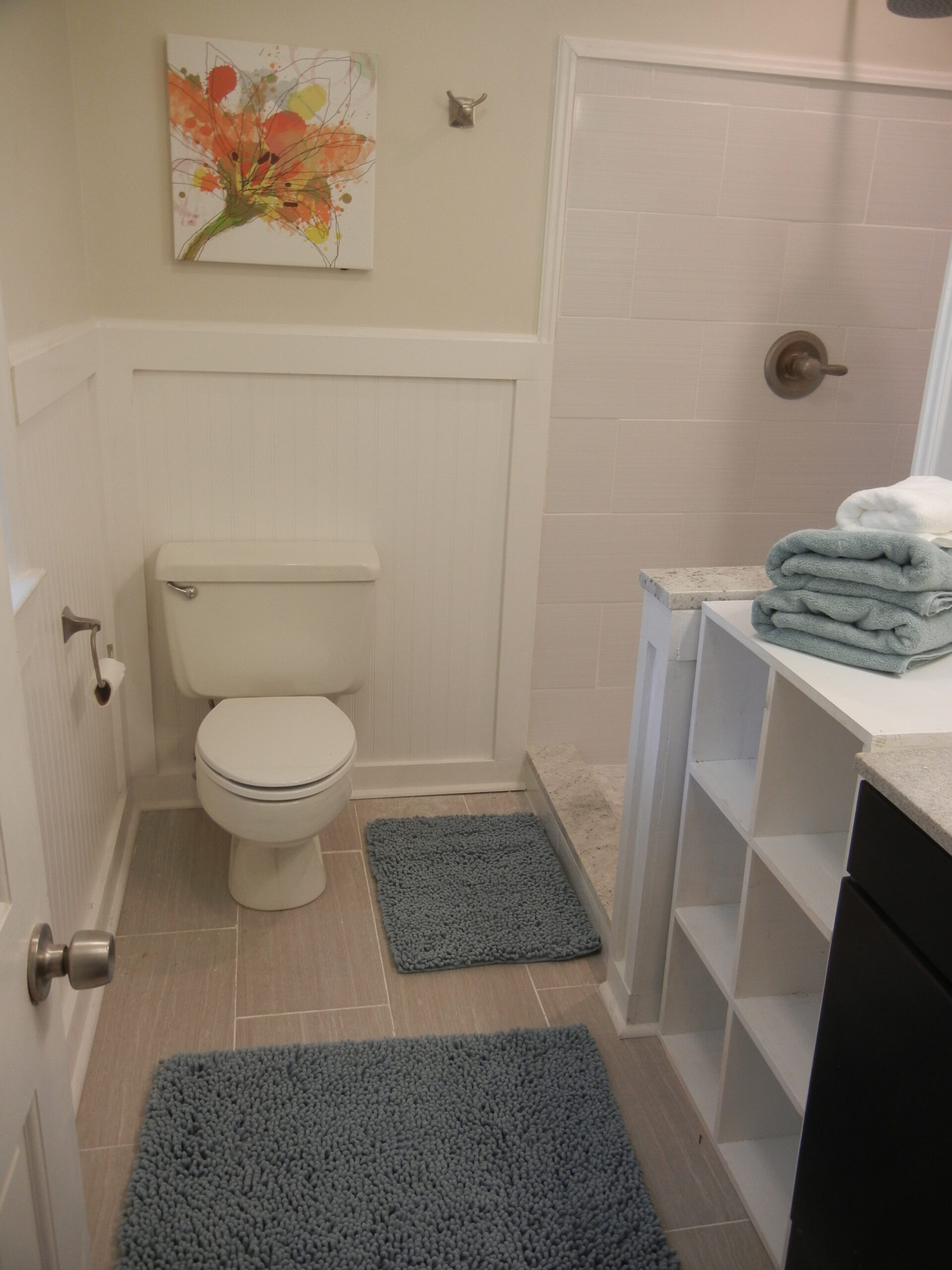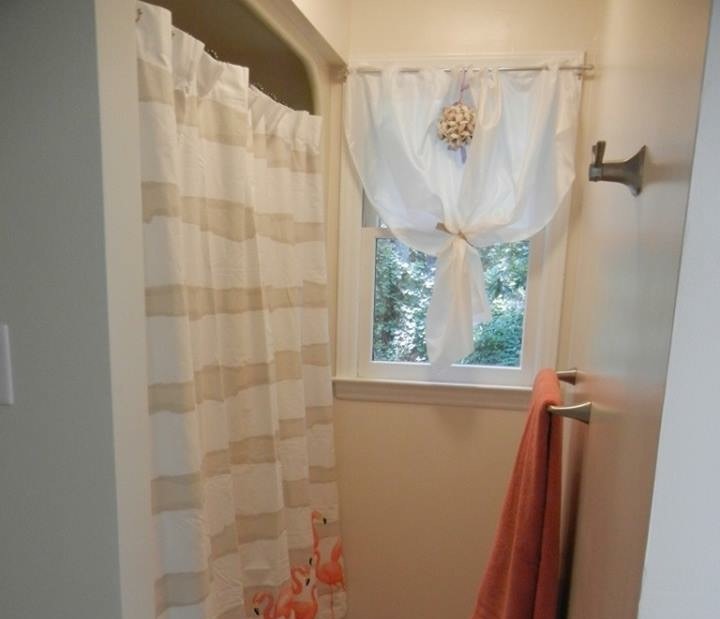 New bathroom shower curtain
A new shower curtain is sometimes needed to bring in color or downplay some color. Some can be too loud so we need to tone it down when it comes to staging. A new shower curtain can run you about $20 and you can find ones in a solid color or a simple print.
Add some artwork or decor
Add some art above the toilet or across from the sink. If you have an open space on the wall, artwork can also help fill in an awkward gap. Most canvas prints or metal artwork can run about $25. You can also add a basket on the toilet, a plant or a tray with candles to stage your bathroom.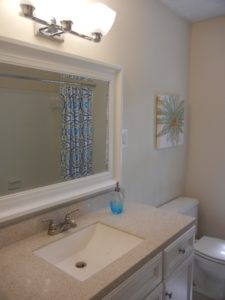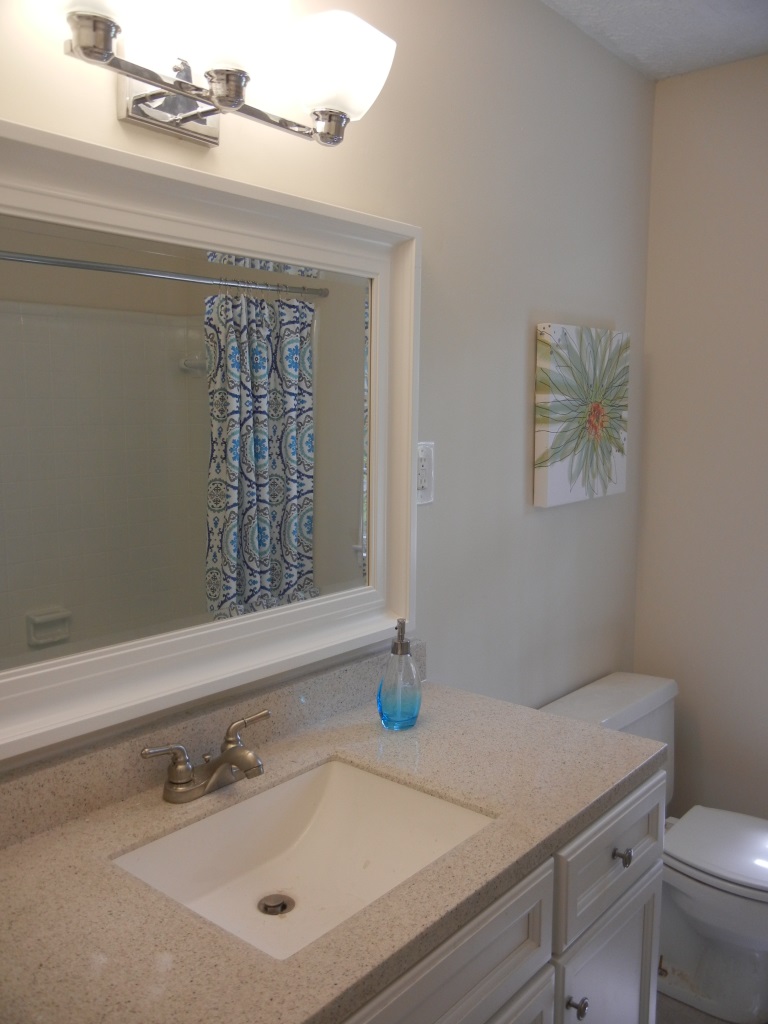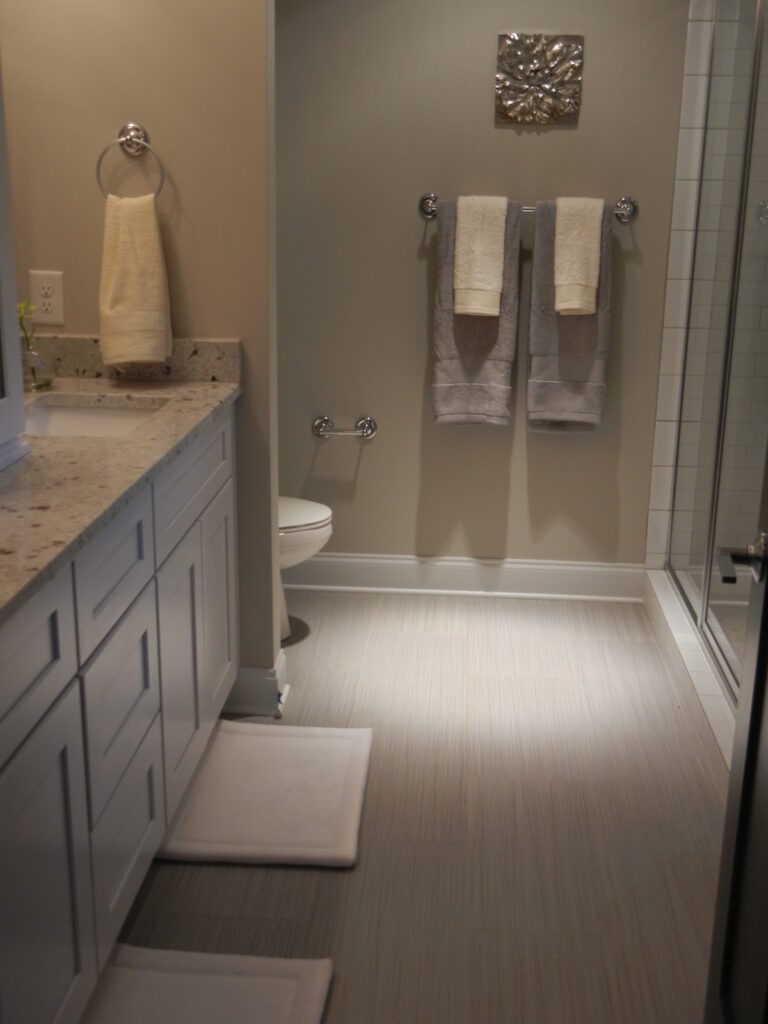 Paint the bathroom walls
If you need to update the wall color too, now is the time to do it. Maybe you had some old wallpaper and now you need to paint. Use a warm beige color, a gray or light blue color on the walls. Use something neutral on the wall to coordinate with the towels, cabinets and shower curtain.
Get a new mirror
Some mirrors may have been there for many years. If you have a frameless mirror, you can replace it with a framed mirror you can find at Lowes or TJ Maxx. They have large mirrors for about $40 and they are 3 feet by 4 feet so it would cover the space over the sink.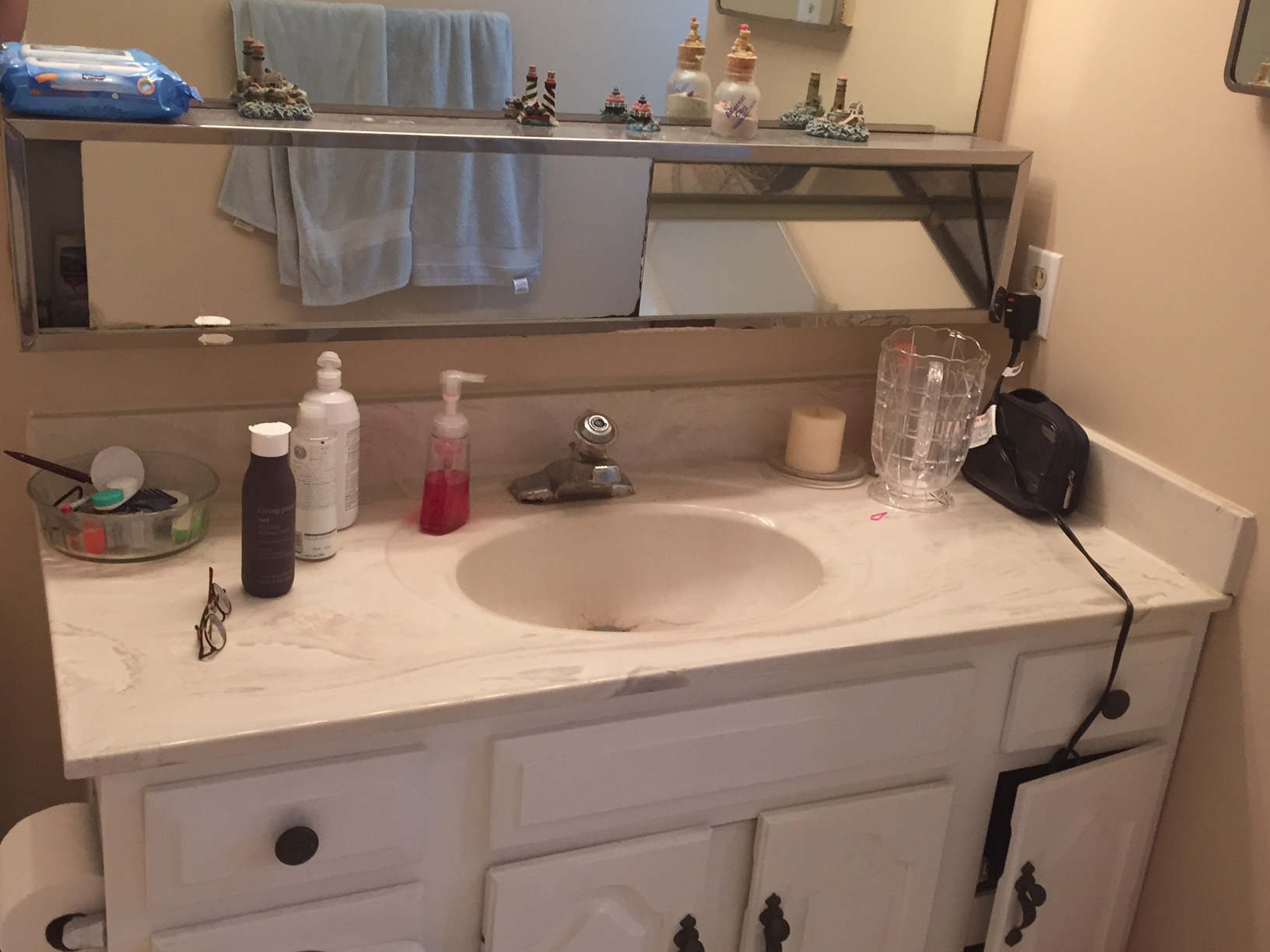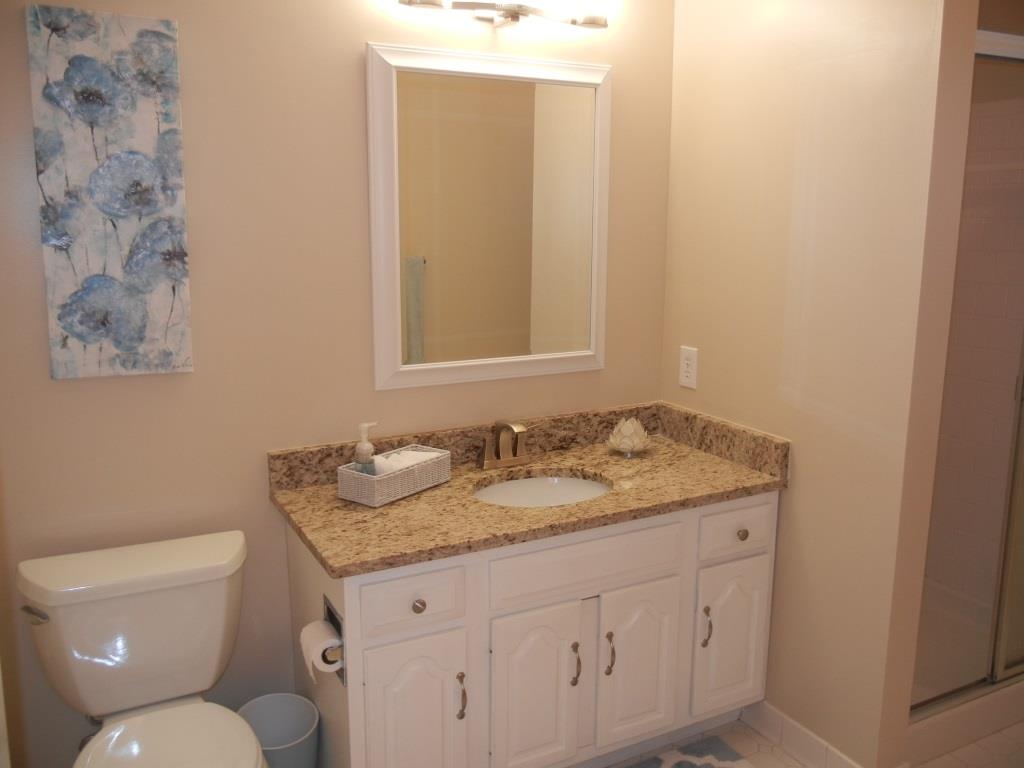 Replace door handles
If your cabinet door handles look a bit dated, you can easily replace these. New handles can run about $4-5 each. 
Paint the bathroom cabinets
Update your old cabinets with a fresh coat of paint. If your cabinets still have life in them and don't need to be replaced, a coat of paint is a great way to update your bathroom. A gallon of paint is about $25. White cabinets are the most versatile color to use in the bathroom but it depends on what colors are in the current bathroom.
Change out the faucet
Maybe you have old, gold fixtures and you can replace it. You can find a new faucet for about $80 at your favorite home improvement store or go online. Just changing out the fixture is a great way to update the sink area.
Replace your light fixture
A new light fixture can run about $90-100 depending on where you look. An old style light bar is something you will want to replace. Find one with 2-3 lights so that they have enough light in the bathroom. Be aware the old light fixture may be longer than the new one, so you may have to do some painting to make it look cohesive.
These are just 10 ways you can update your bathroom for under $100 to help you sell your home faster. If you have any questions, you can feel free to reach out to me via email [email protected] and I would love to help you.
Need some more staging help?
Here are 2 options to get your house sold faster.